2022 Australian Interior Design Awards: Sustainability Advancement – joint award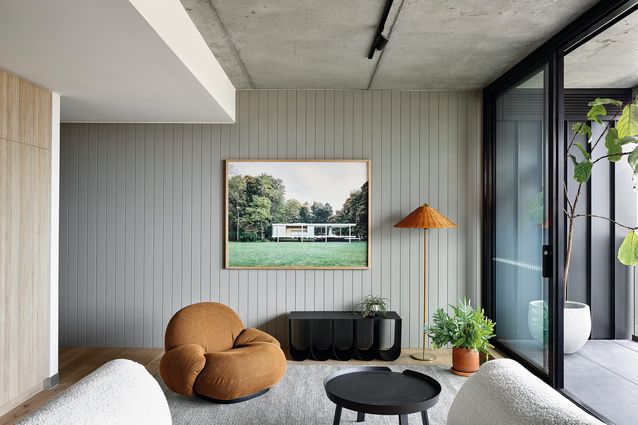 Jury's comment
This year The Advancement of Sustainability category had an incredible diversity of projects, from residential to workplace to retail. The jury was impressed with 17 Union Street for fully meeting all sustainability criteria, both aesthetically and functionally, and for also supporting the idea of ​​community and neighborhood as a form of social sustainability. He champions longevity and the importance of thinking about sustainability in terms of the long-term use of buildings rather than short-term compliance. The judges unanimously agreed that this is a great example that developers can reasonably aspire to.
Design statement
Located in Melbourne's Jewell Station Village, 17 Union Street by Neometro comprises 39 apartments and a commercial and public development. With architecture by BKK Architects and interiors by Clare Cousins ​​Architects, this is a building that will wear "inside, not out" and support well-being and connection in the community.
Sustainable living at 17 Union Street is about creating infrastructure that supports resilient communities while incorporating environmentally sustainable design principles into the built form. 17 Union Street prioritizes materials in their raw form, avoiding applied finishes, toxic coatings and impending maintenance. The project includes a rooftop composting station and edible garden, as well as planting workshops led by local experts to share knowledge and ensure vitality. Open corridors contribute to cooling in summer, limiting the need for mechanical systems. And the apartments are planned to maximize natural light and cross-flow ventilation, emphasizing passive design principles.
Built on the lands of the Wurundjeri Woi Wurrung people of the Kulin Nation
Project credits
design practice — BKK Architects
group project – Simon Knott, George Huon, Deb Adams, Ange Rosato, Ewan Carson, Kanyanta Chipanta; Clare Cousins ​​Architects: Clare Cousins, Brett Wittingslow
The award for the advancement of sustainable development supported by Elton Group. The Australian Interior Design Awards are presented by the Design Institute of Australia and Artichoke magazine. For more images of this project, see the Australian Interior Design Awards gallery.
Related Topics