5 design trends you should know about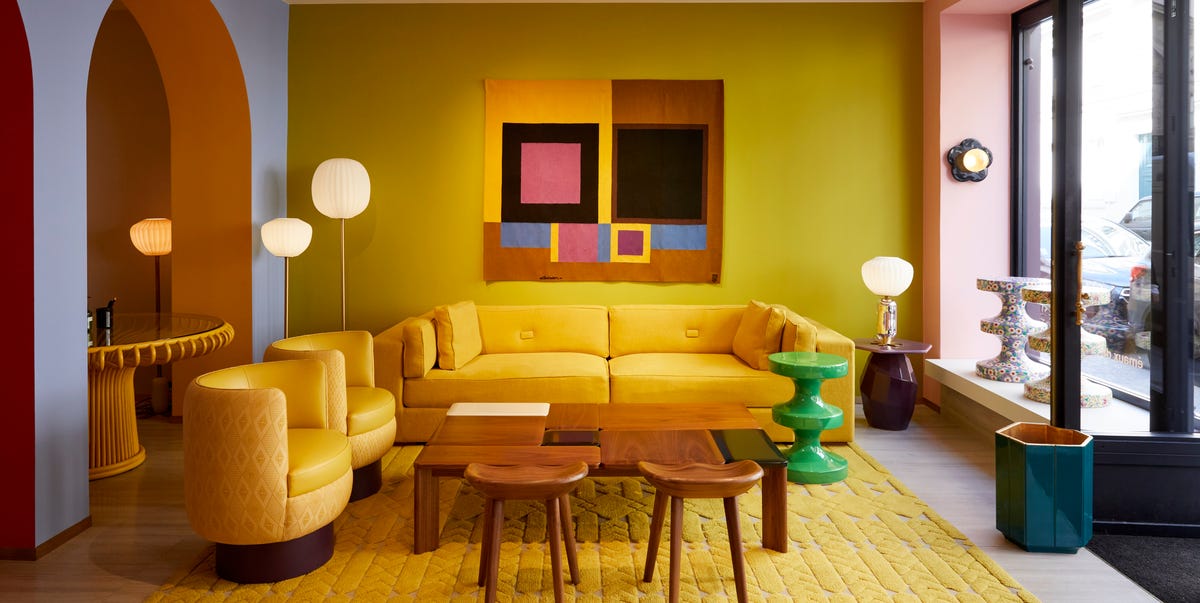 Above: Sebastian Herkner's new Blume chair by the Italian manufacturer Pedrali.
---
After two years near my home, flying across the Atlantic to attend the Maison & Objet show in Paris was a thrill – and also a treat for the eyes and the soul. Organized outside the city center, in the Villepinte exhibition center, the biannual show is the industry meeting place for buyers, specifiers and designers looking for the latest in interior decoration. interior, showcasing furniture, lighting, table tops and linens, all represented by 1,800 international brands. The latest iteration of Paris Déco Off, where fabric and accessories companies launch new products, was held simultaneously in the Rive Droite and Rive Gauche showrooms, while Maison & Objet's new initiative, In the City, invited visitors to 87 outposts to experience the essence of French. pattern. All of this energy, including the opening of new galleries, boutiques, hotels and museums, has brought forth a Parisian spirit of joie de vivre. Through that lens, here are some of the top themes and trends we spotted in Paris this spring.
Saturated colors were everywhere
All week, the color vibrated on the walls and in the streets. Oversized floral prints and tie-dyed garments were on display in the SANAA-renovated Samaritaine department store, along with sherbet-tinted oranges, bright pinks and mint greens. According to London interior designer Linda Boronkay, a deep Yves Klein blue was also ubiquitous, while an eclectic range of home textiles included the must-have Gattopardo and Thaiger animal prints from Tony Duquette's Dawnridge line for Jim Thompson, as well as a classic Dedar camouflage tapestry called Erbaluce. The New York fabric showroom Studio Four presented the Paris Elemental collection by artist and textile designer Wayne Pate whose cubist geometric shapes on natural linen recall the bohemian Paris of Braque and Cézanne. "Years of simplicity ushered in a new opulence, where color, pattern and layering dominate," says New York designer Danielle Colding of the decor she encountered in the city.
---
Rattan is back
History is indeed repeating itself. Example: The old and new iterations of rattan furniture that were everywhere in Paris. Rattan was woven into consoles, pendants, tables and chairs and produced by a wide list of international brands. Historic companies such as Parisian Maison Drucker have been making stylish bistro chairs since 1885, but have recently shifted to the more contemporary rainbow style. Danish company Sika-Design has made furniture for iconic Italian designers like Franco Albini and also for Danish national hero Arne Jacobsen, whose 1929 Paris and 1937 Charlottenborg lounge chairs are still in production and are available in outdoor versions. A more mod take on the reed was introduced by Popus Editions, a French company whose cocktail table incorporates bright orange leather panels and detailing, giving it real sex appeal. And on Rue de Beaune, museum-worthy 19th-century wickerwork was on display at a pop-up at Galerie Vauclair, curated by Lizzie Deshayes, one half of British wallpaper company Fromental; here, she's juxtaposed the rare swatches against the brand's floral-patterned Japanese Kiku paper.
---
Crafted location settings are back
Across the city, this year's product previews were accompanied by cocktails and often sit-down dinners, some of which were served in the most unlikely of spaces. From the former residence of French intellectual François Sagan to the Twenty-Two Club, a private home overlooking the Royal Palace, design firms have created intimate places to socialize and dine. A formal table was de rigueur for French designer Laura Gonzalez, who welcomed friends and the press to her new rue de Lille showroom, which was set up with her signature furniture covered in Schumacher fabrics; the Japanese-inspired meal was served on a table created in collaboration with Waww La Table. At Pinto, founded by French decorator Alberto Pinto, a line of tableware called Jaipur was offered in a wide range of shades, while ABCDior plates, designed by Dior artistic director Maria Grazia Chiuri as a nod to a toile de Jouy from the four seasons, were on display at the brand's flagship store on avenue Montaigne. Finally, the French brand Gien presented La Favorite, a tribute to the Ottoman Empire and Turkish Iznik ceramics designed by Yaz Bukey.
---
Prepare for some not-so-sweet yolks
To celebrate the 50th anniversary of the ubiquitous smiley face, Galeries Lafayette's Art Nouveau flagship has been covered in neon yellow smileys in its windows and on the clothes themselves. The upbeat yellow hue was also dominant on fabrics, furniture and lighting. Designer Sebastian Herkner's new Blume chair from Italian manufacturer Pedrali has been upholstered in yellow, while a reissue of Italian designer Gae Aulenti's 1968 Ruspa lamp by Martinelli Luce comes in a sunny finish as a single or grouped fixture. in four. In her Saint-Germain showroom, the French designer India Mahdavi presented both her Oedipe sofa and her Jardin Interior rug by Cogolin, available in the same bright and cheerful shade. Or just ask New York interior designer Rayman Boozer what he thought of the "decadent yellow velvets" he spotted at Pierre Frey: "They made me want to party!"
---
Art deco has another moment
Designer Ghislaine Viñas was struck by the plethora of eras, from Art Deco to Memphis, that she saw in showrooms and at the Museum of Decorative Arts. "If you didn't think Memphis would have a sustainable runoff, you might be wrong," she said. "Not only do I always pay attention to the original Memphis designers, but I'm also struck by the amount of color that is pulled from this movement." The 1930s were also represented, from Jean Paul Gaultier's large-scale Bauhaus-patterned rugs and fabrics at Lelièvre to Rinck's partnership with Fromental, with his Ornements capsule collection that featured the blood-red Elysée chair embroidered in petit point with a cushion and backrest. in a sunburst pattern. More decorative inspiration was presented at the age-old workshop Féau Boiseries, with an armchair by Oitoemponto edged in black lacquer and covered in Tiger Mountain by Dedar. And at Élitis, a tribute to the legendary Italian architect and designer Ettore Sottsass was presented in a printed velvet from his Milano Collection.
This content is created and maintained by a third party, and uploaded to this page to help users provide their email addresses. You may be able to find more information about this and similar content on piano.io