There can't be many people who would be excited about a sign for sale outside a huge, neglected church. Dean Keyworth and her husband Gavin Hilton saw the disused church and decided it would make the perfect renovation project. They were looking for a second home near the coast and the church was located in a quiet village, almost as far north as possible without crossing the border into Scotland. It was 14 years ago and unfortunately things did not go as planned. Their offer was overbid and Dean and Gavin continued their search.
In 2018, the couple discovered that the church was up for sale again and had barely been touched in the meantime. "This time I wasn't going to pass it up," Dean said and he set about making plans and finding out what was possible given that the old church was a Grade II listed building, built in 1821. .
It turns out that with brilliance, creativity, and bravery in equal measure, a lot was possible. And the dramatic results of Dean's Church renovation project make it one of the best homes in the world.
There is something to inspire anyone undertaking a major renovation project. However, the creative makeover of the building is full of ideas that could just as easily be transferred to smaller projects, especially for those looking for kitchen ideas.
before embarking on a refit.
Interior designer Dean Keyworth took charge of the neglected building, which he says consisted of a single huge main room with seven-meter-high ceilings and an old bathroom with a tree growing through the wall. Dean, who set up Armstrong Keyworth and is a former president of the British Institute of Interior Design, brought the old church back to life in style. He added his colorful views and original talking points, while retaining the essence of the original space and period features.
We've picked our favorite corners from this unusual conversion. Here are some of its most inspiring design elements.
1. An old choir stall has been transformed into a mezzanine kitchen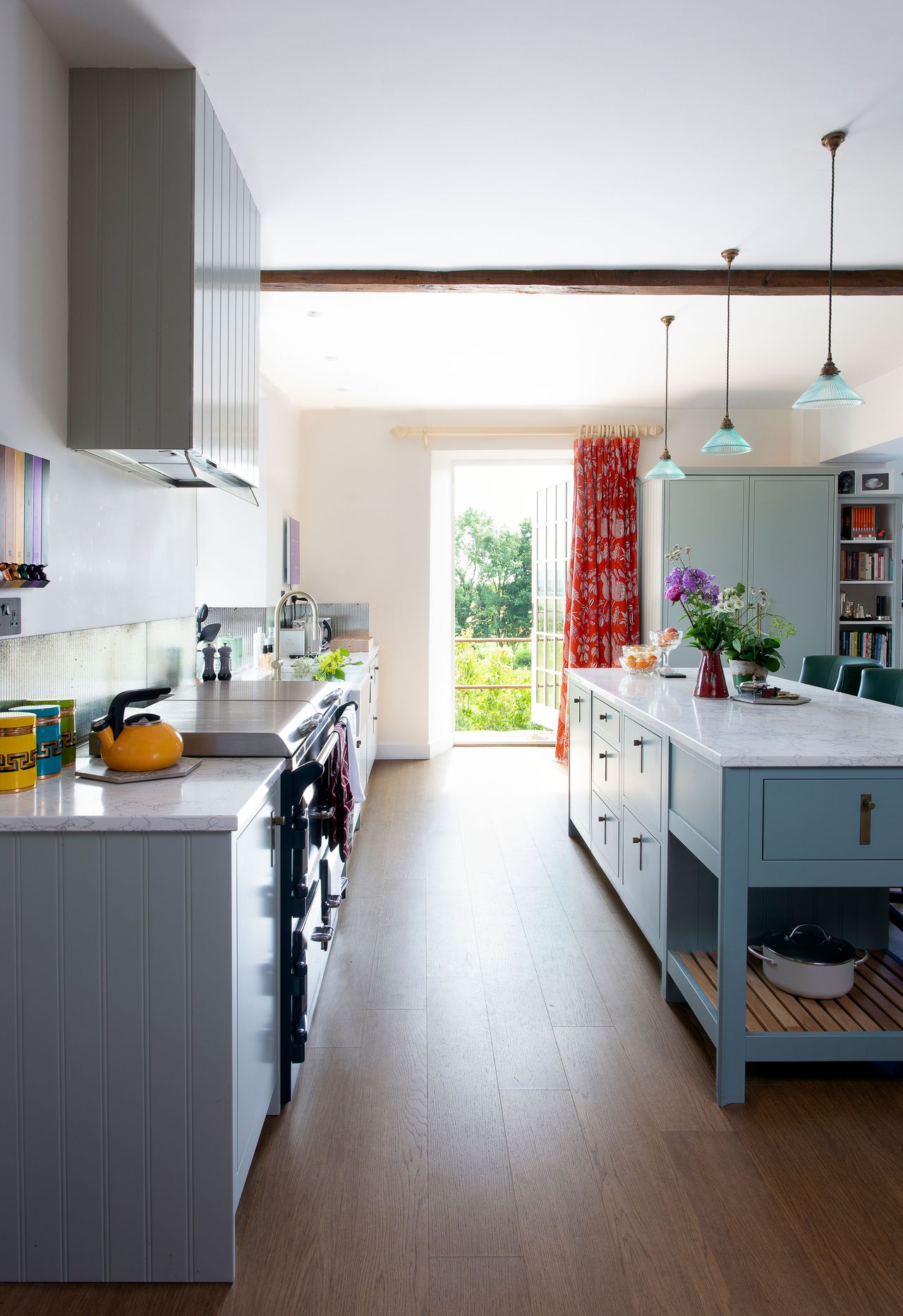 A kitchen in a choir stall – why not? We are definitely singing his praises! Looking for smart kitchen cabinet ideas? These elegant gray-blue cabinets were handcrafted by 1909 Kitchens, and Dean added the unusual distressed mirrored credenza. An island breakfast bar has also been incorporated into the project and a door opens onto a Juliet balcony to make the most of the elevated position of the room, providing great views and additional natural light. A Balangan fabric curtain by Manuel Canovas adds an extra splash of color.
2. Color has been added to a modern kitchen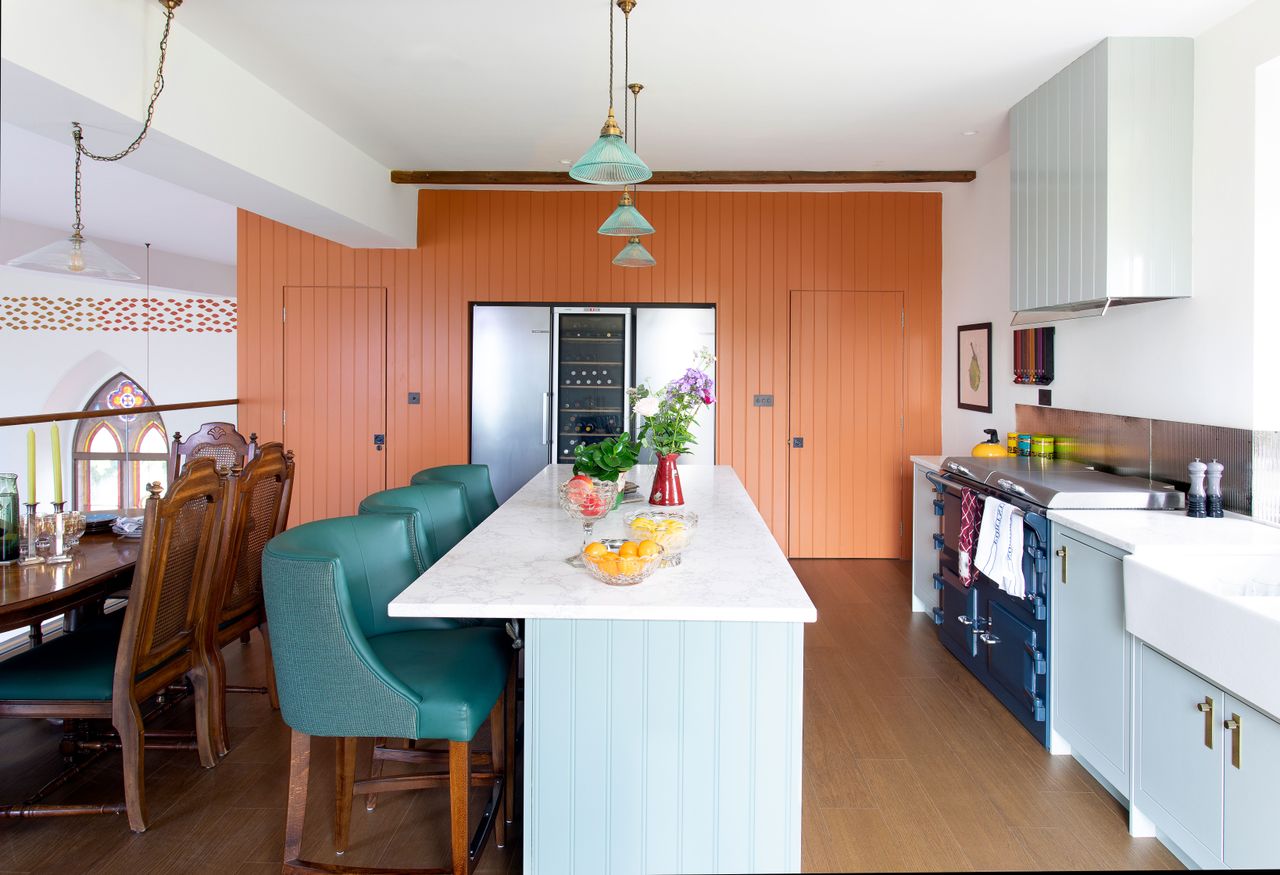 Dean came up with a palette of burnt orange, green and caramel which he uses throughout the project and which works in both old and new parts of the building. If you're looking for kitchen color ideas, take note: Dean's loft kitchen is a masterclass in color blocking.
Striking tongue and groove panels are painted in Craig & Rose's Red to contrast with the units, but to echo the dining room downstairs, while the Robert Langford the breakfast bar chairs are upholstered in tartan leather and green Armani Casa fabric, in keeping with the palette. A glass balcony was added to the existing mezzanine, but the couple were adamant that the central space would remain as one area. "I hate to see beautiful stained glass windows cut in half with floors," Dean says. An expert was called in to restore the windows to their original shine.
3. Embrace the origins and architecture of the building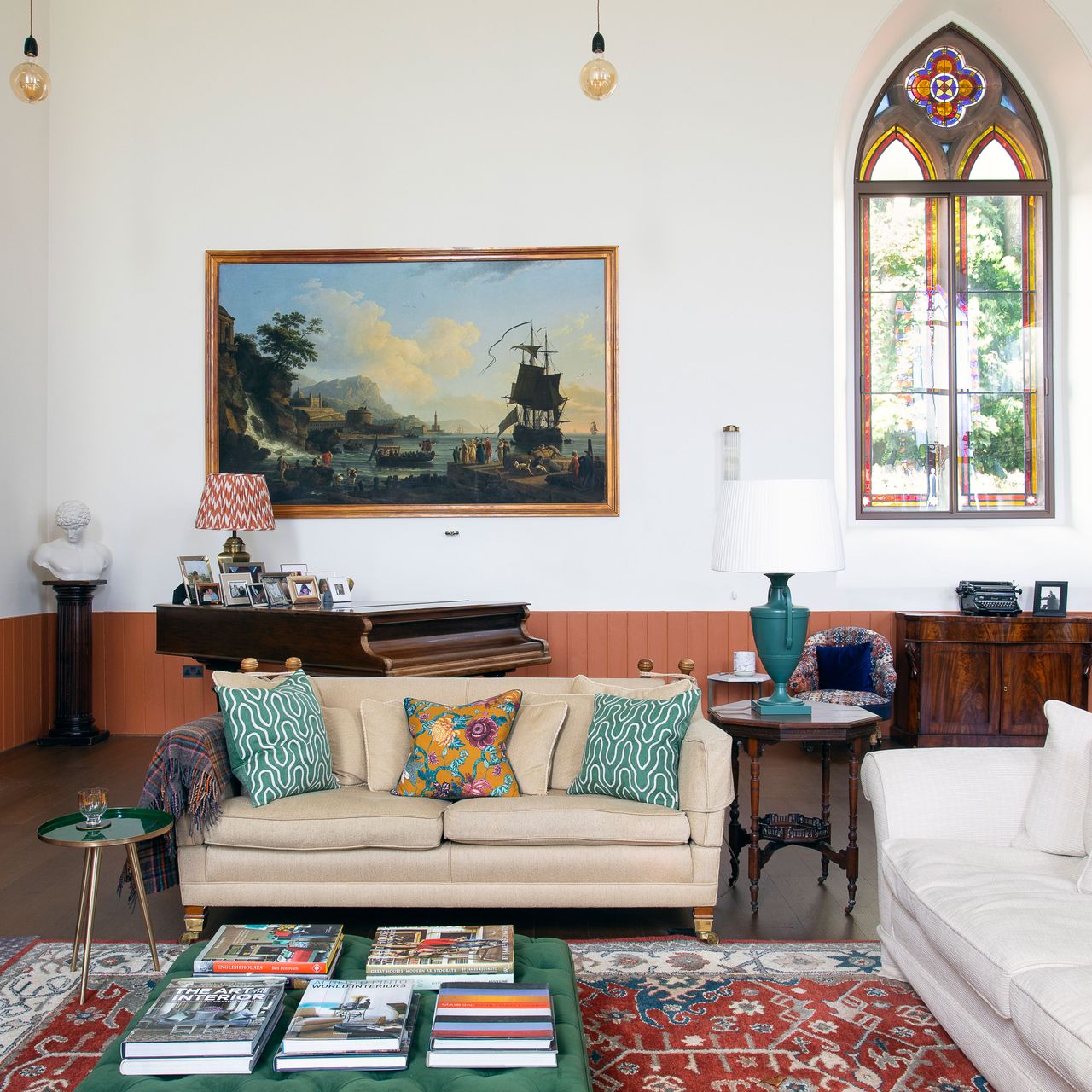 Dean has retained the full height of the central living space so that its original features, including stained glass windows, are in no way compromised. The framed mural is Marine Au Soleil Couchant by Paris Papers.
4. Create warmth in an open living room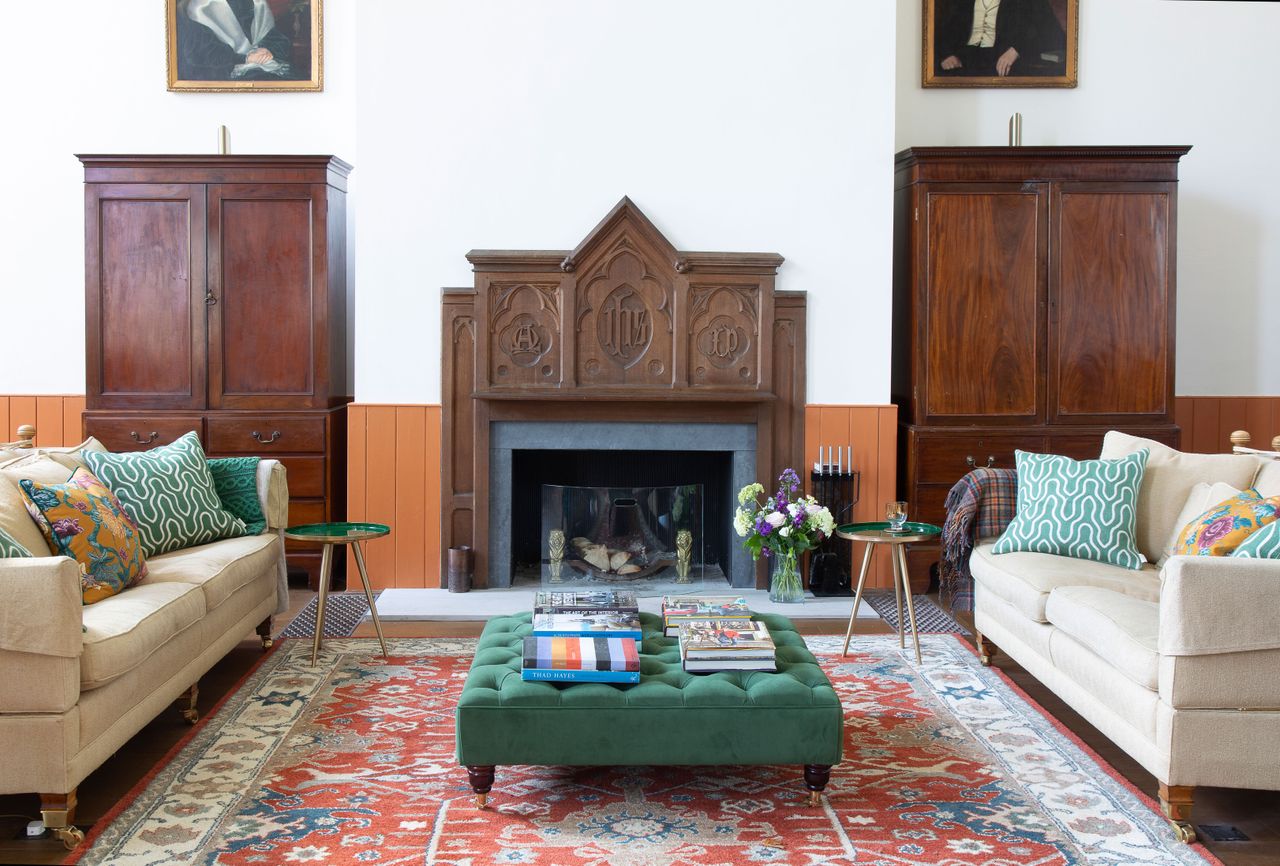 Dividing the central space of the property into zones has given each zone its own identity and also helps to create a more intimate and comfortable look. Of course, if you're looking for living room ideas, you can't go wrong grouping your sofas around a fireplace, like Dean did here. The green footstool is custom made and Dean purchased the antique cabinets on either side of the fireplace at a local auction house. The rug and fireplace were purchases at online auctions. The dark wood and gothic style of the fire surround make it the perfect choice for an old church.
5. Host formal dinners in style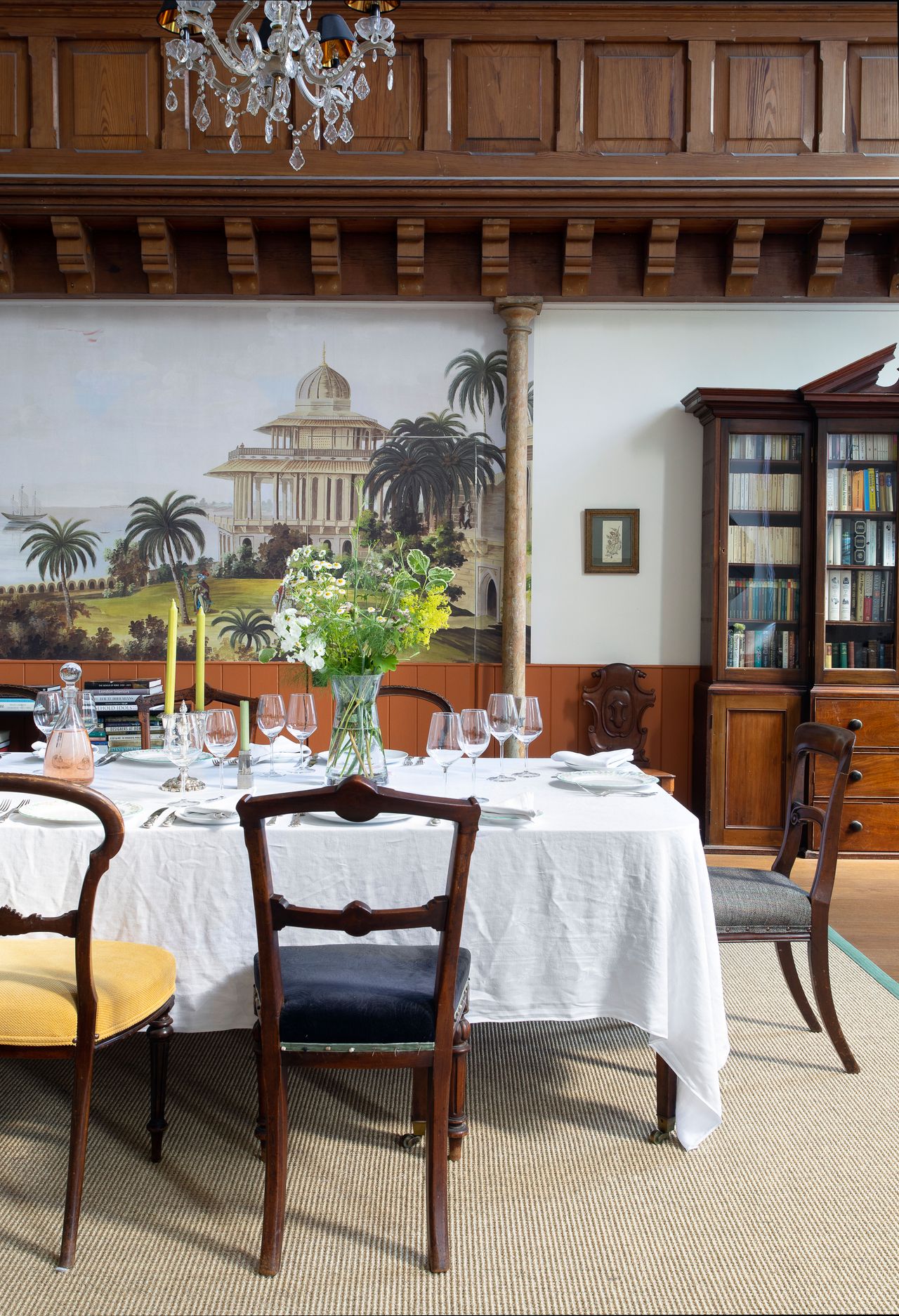 While there's room for friends around the small dining table in the loft kitchen, a more formal space like this is just perfect for entertaining a crowd. If you're thinking of dining room ideas or reconfiguring a dining room, your starting point should be how many guests are you going to have and how often?
This mahogany dining table easily seats 14 and was a bargain at a local auctioneer. The large mural at the back of the space is India Color by Ananbo, and the orange tone was chosen in the woodwork. The couple have brought some antiques with them from London, but like to mix and match mid-century pieces and buy furniture specially, or – in the case of the huge antique library – borrow from friends.
6. Get the bedroom basics done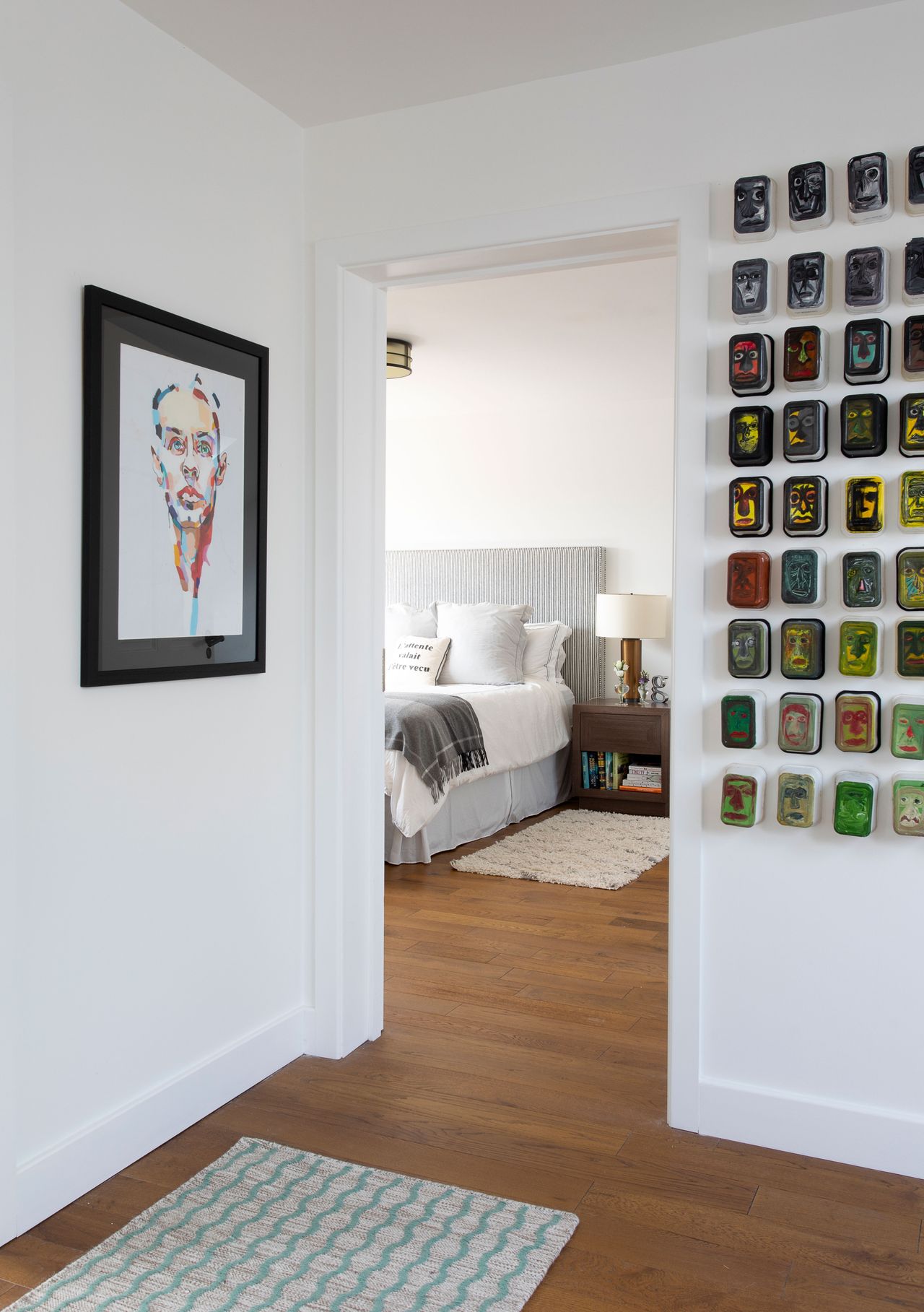 A calm gray and off-white scheme ensures the master bedroom is a relaxing retreat – essential for any bedroom idea. The headboard is covered with Liquorice from Pierre Frey. The table lamp is Justin Van Breda. In the doorway is a treasured painting of her daughter Georgia, along with modern art made of margarine tubs by Hani Najm.
It's a very restful space now, but Dean has found that his plans to build a whole new floor for the master suite and guest bedroom in the attic initially gave his builder nightmares!
"Our builder was great, but to reinforce the ground enough, we needed three steels of 12 meters each," explains Dean. "He admitted to me later that he had sleepless nights about it."
7. Go wild with pattern and color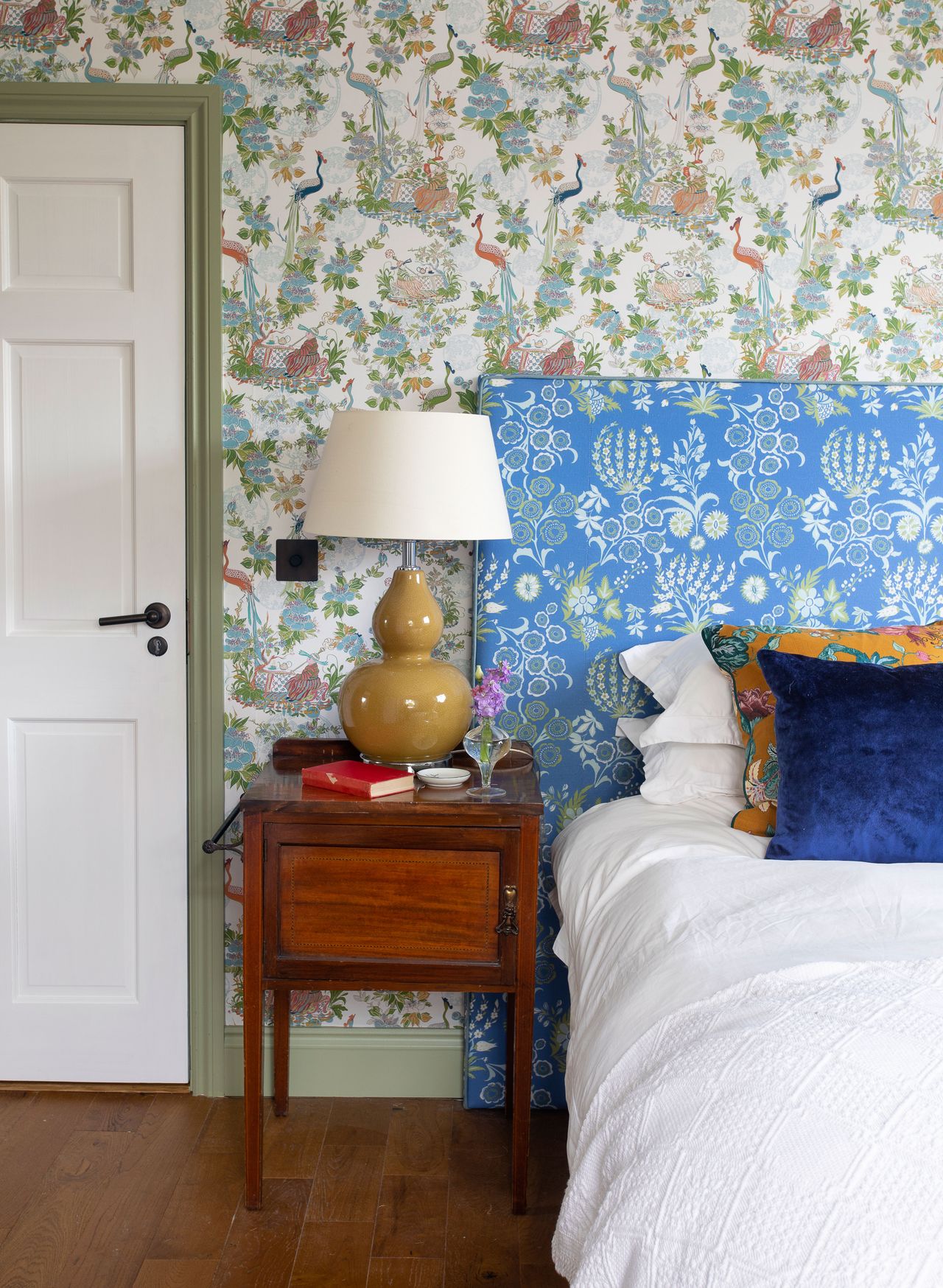 Sometimes when it comes to patterns, it's best to go big. Georgia Girl's Room Features Charlotte Gaisford's prints on the walls (La Comtesse), and the fabric of the headboard (Tsarine). By linking the busy scheme with a calm light green hue for the woodwork, it becomes a winning combination.
8. Install a luxury bathroom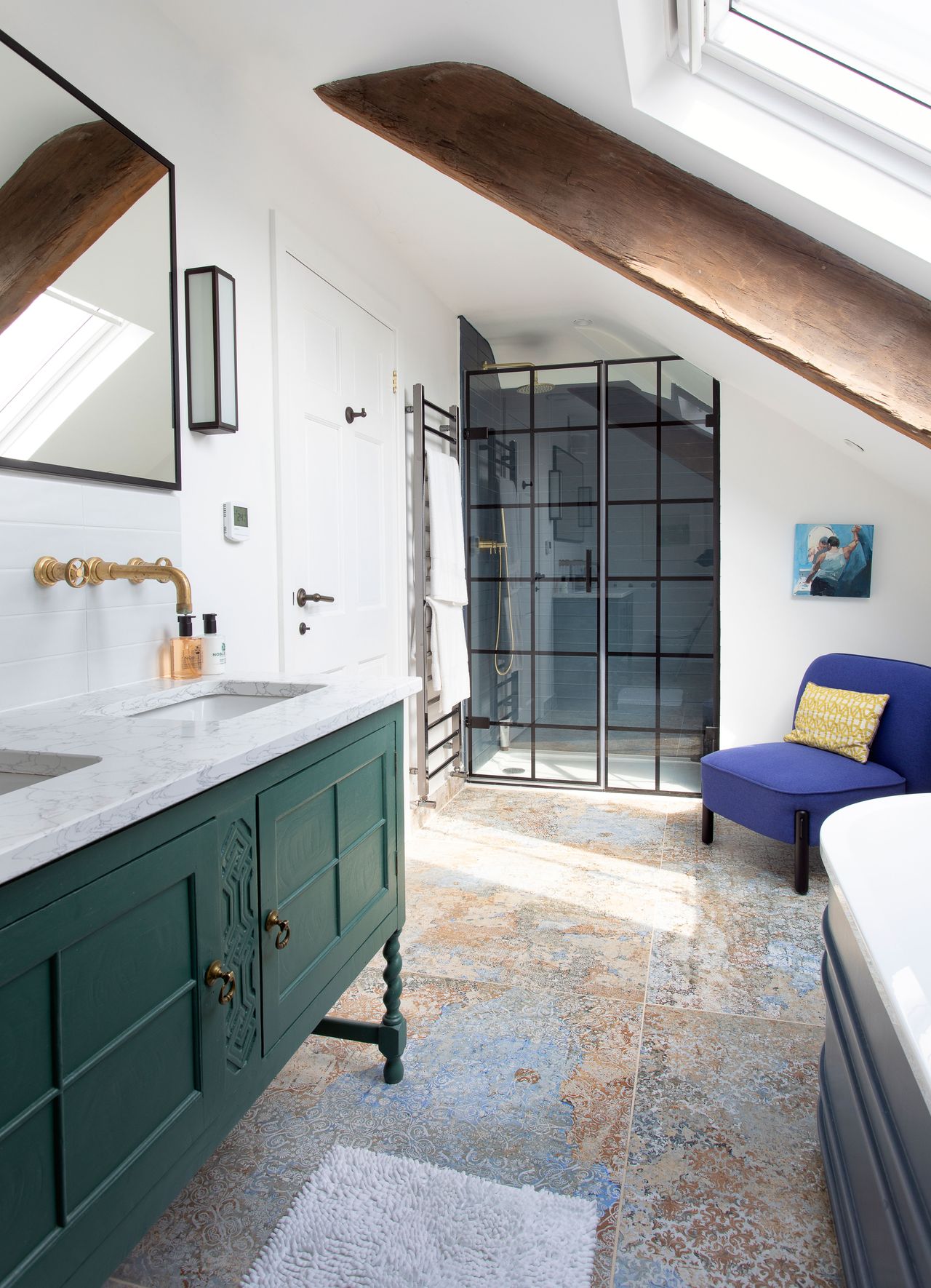 Among the great bathroom ideas to copy from Dean's new loft suite is a 1930s sideboard repurposed to hold double sinks. A metal grid shower screen divides the large walk-in shower.
9. Go big in a small bathroom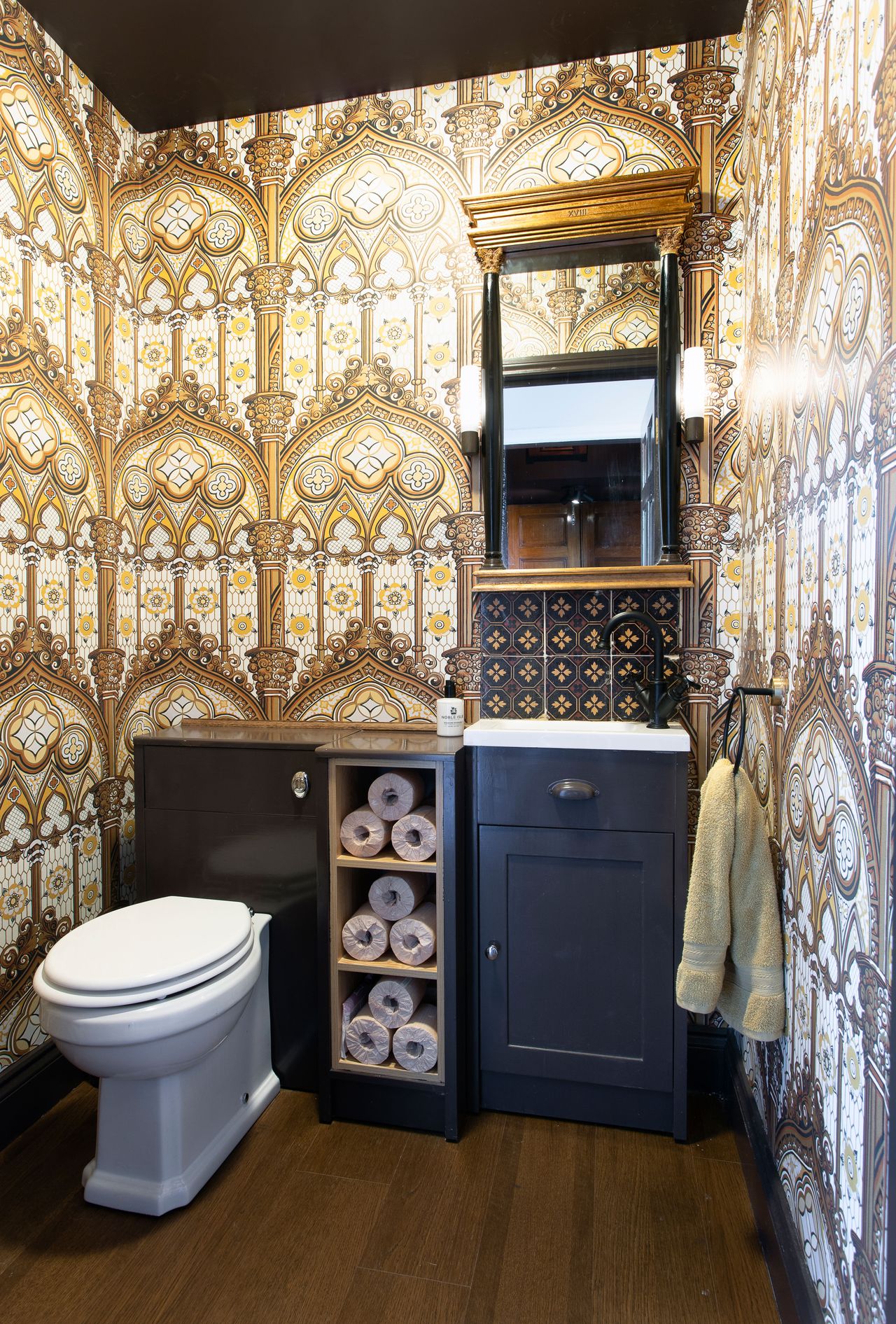 The spectacular wallpaper in the downstairs bathroom is Hallelujah by Pierre Frey, which is based on a Gothic design from 1830 and thus corresponds to the age of the old church.
It's easy to get discouraged from choosing a specialty wallcovering based on cost, but a little luxury goes a long way and if you find exactly the right bathroom wallpaper, as Dean has done here, then this will have a big impact even in the smallest room in the house.
Feature / Stephanie Smith