Detroit Pophouse Unveils New Interior Design at One Campus Martius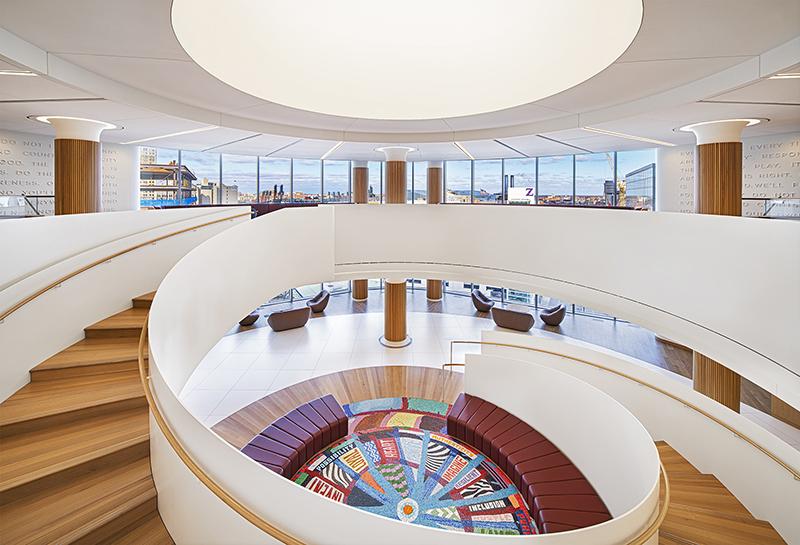 Pophouse, a Detroit-based full-service design studio specializing in interior, industrial and environmental graphic design, has unveiled a one-of-a-kind office space in Detroit that will serve as headquarters for Rock Ventures and the Rock Family of Cos.
Pophouse has transformed the 50,000 square foot space, located in the One Campus Martius building, to serve as a collaborative and innovative center housing more than 90 companies. Pophouse says it created a space representative of the Rock Ventures and Rock Family of Cos. investment in the future of the company and the success, health and general well-being of its team members.
"Pophouse and Rock Ventures and the Rock Family of Companies understand that bringing people together is essential for innovation and collaboration," says Jennifer Gilbert, Founder and Creative Director of Pophouse. "Our plans for the space have been in the works for some time – and while other companies have paused on what their future workspace would look like over the past year, we've gone from full steam ahead with health and wellness at the forefront, and now boasts a one-of-a-kind office space.
"Reflecting Detroit's entrepreneurial culture, the design of the Rock Ventures and Rock Family of Companies headquarters aims to increase engagement and foster innovation, informing the legacy and possibilities of the companies and communities they serve. serve."
By implementing team member feedback and research analytics, Pophouse has created a holistic space for team member and guest interaction that brings people and ideas together in meaningful ways. With thoughtful design elements woven throughout, the transformative space creates an environment of open communication, spontaneous collaboration, and high performance.
In partnership with Whiting-Turner, Ghafari, Mod Interiors and Library Street Collective, Pophouse has integrated interior, industrial and environmental graphic design into the newly unveiled space that pays homage to Detroit.
Walking through the lobby, visitors will be greeted with inlaid custom terrazzo, which resembles the flow of Detroit's city grid system and references the expansive spirit of Detroit's star-shaped urban development. Woven seamlessly into the space through design and artwork, nods to Dan Gilbert's culture statements, called "Isms", that demonstrate organizational identity and provide an anchor for individuals of the team.
"Pophouse set out to create a first-ever space in Detroit that serves as the intersection of 90 businesses. We implemented a thoughtful design that connects team members to the organization, the city of Detroit, and each other. to others," says Jennifer Janus, president of Pophouse.
"Our designers used a research-based design process to create a human-centered home office that breaks the mold of the traditional office. This space will serve as a reference for companies looking for ways to increase engagement and foster the culture of their teams. We are proud to support Rock Ventures and the Rock Family of Companies in this investment in their team and look forward to the positive impact this will have.
Pophouse's work with Central Hub was featured on the cover of Interior design April 2022 issue.