French Goes Modern: How Interior Designer Carole Carter Malloy Designed Her Atlanta Apartment
"I get a lot of inspiration from commercial projects," says interior designer Carole Carter Malloy. "I'm drawn to masculine textures like brick, steel, glass and wood." So when she finished her apartment on the 15th floor of the St. Regis in 2018, she kept coming back to places like the Ponce City Market, the Barcelona Wine Bar and the shops of Sid and Ann Mashburn. After a year of research, she discovered that the same person, architect Mark Blair, had helped design them all. At the time, he was unavailable for residential projects, but he connected Carole with his architect wife, Sarah. (The two Georgia Tech grads now have their own residential and commercial business, Curious Projects.)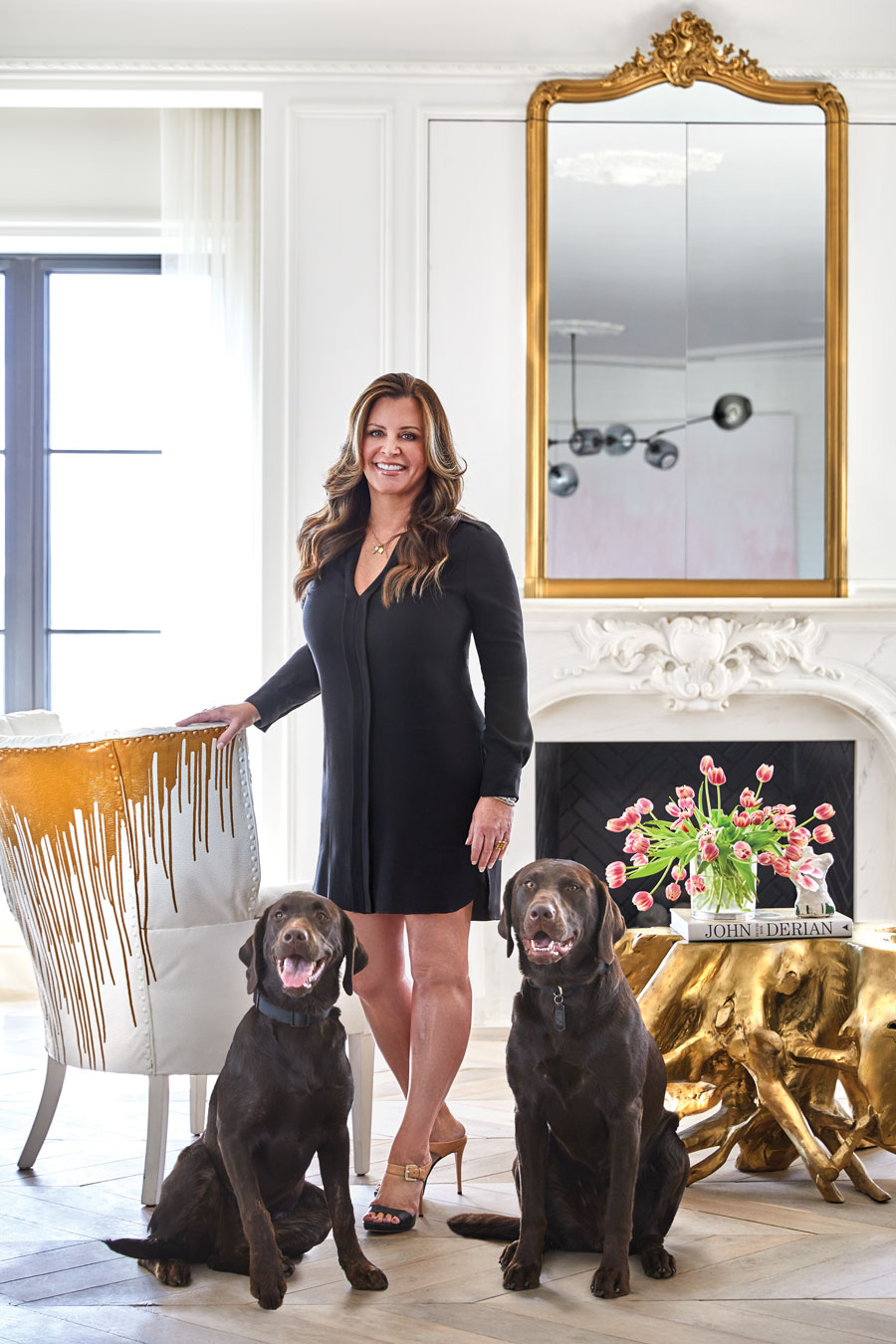 Adding another layer to this industrial look, Sarah took a French modernist approach. "We wanted the apartment to feel like an old Paris apartment that had been updated, with historic details like plaster walls, intricate woodwork and French oak herringbone floors," she says. Touches like the Louis XIV-inspired moldings and subtly rounded corners where the walls and ceiling meet helped soften the 5,000+ square foot space. Marble permeates the house, especially in the kitchen, bathrooms and bar.
Compensating for all this elegance, the iron doors and windows add the sought-after industrial touch. Italian sofas, sculptural light fixtures and artwork by Carole's daughter, Zoe, or friends and family such as Bruce Bobick, Maddie Grace Maierhofer, Lyall Penley, Jerry Chappell, Steve Penley, Carrie Penley, Tim McClain and Rob Matre complete the look. An antique gilt mirror in the living room opens accordion style to access a TV.
A custom walnut dining table, which doubles as a ping pong table, was chosen for both style and family fun. Behind, pocket doors painted by Carole and her son Scout open to reveal the bar.
The Malloys enjoy the amenities of the St. Regis Hotel, including their beloved room service. "We have a good time together, because we've designed this with a public space and a private space in a way that kind of forces us to hang out," says Carole.
RESOURCES | Architect Sarah Blair, AIA, Curious Projects, curious-projects.com Interior design Carole Malloy and Michael Berzsenyi, Josephine Design House, josephinedesignhouse.com Service provider The Berndsen Company, berndsen.com Entrance Metal doors: RG Ironworks, rgironworks.com. The living room Sofa and chairs: Context Gallery, contextgallery.com. Dining room Table/ping pong table: Venture Games, ventureshuffleboard.com. Benches by table: Jackson Builders, 770-712-1342. Lighting: Lindsey Adelman Studios, lindseyadelman.com. Food Cabinets: Skylar Morgan Furniture, skylarmorganfurniture.com. Owner's bedroom Nightstands: Black Furniture, noirfurniturela.com. Bed: HR, rh.com. Bedding: Peacock Alley, peacockalley.com. Fringe Throw: Dixon Rye, dixonrye.com. Bench: Anthropology, anthropology.com. Rugs: Eliko rugs, elikorugs.com. Small drawing: Carrie Penley, carriepenleyart.com. Porch chairs: West Elm, westelm.com. Bathroom Lumen: Arterial, arteries.com. Foyer Door: Ironworks International Inc., ironworksintl.net. Girl's room Bed: Serena & Lily, serenaandlily.com. Bench: Stanton Furniture, stantonhomefurnishings.com.
This article originally appeared in our Winter 2021 issue of HOUSE of Atlanta Magazine.