How to recreate interior design from the anatomy of a scandal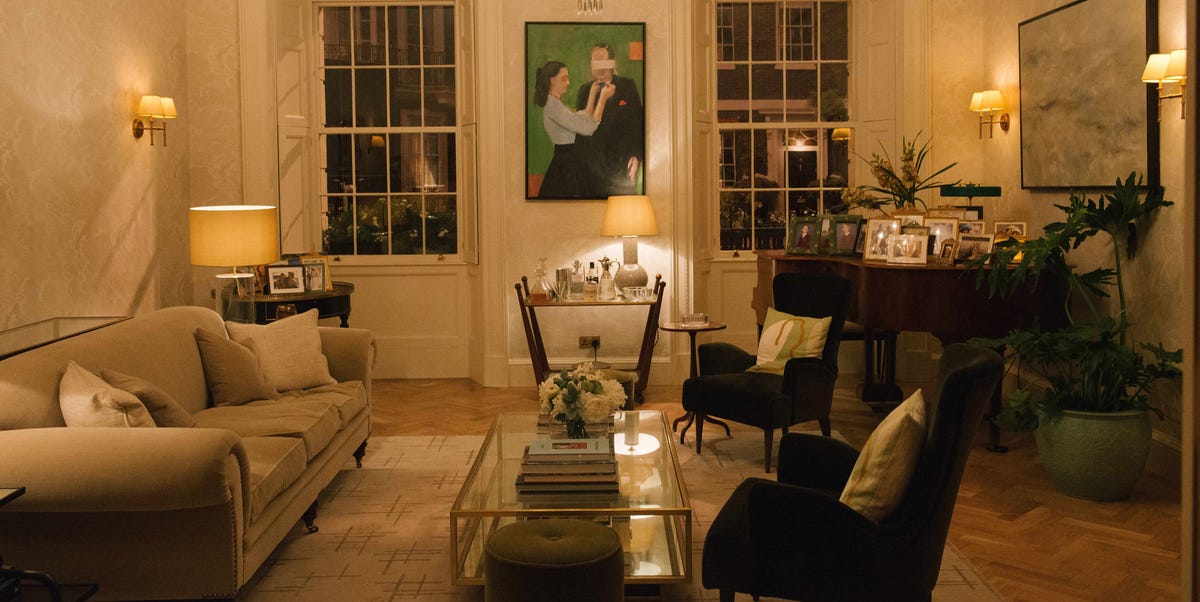 Anatomy of a Scandal might still be a new pick on the Netflix docket, having only premiered in April this year, but it's already garnered its fair share of attention, and not just for its dynamic plot.
For those who don't know, Anatomy of a Scandal is a six-part series that follows Sophie Whitehouse (Sienna Miller) and her husband, James (Rupert Friend), who is a prominent politician. A little like Scandalthe ABC hit by Shonda Rhimes, the main arc of Anatomy of a Scandal focuses on James admitting to having an affair with one of his associates. Although he claims it was consensual, the staff member then publicly accuses him of rape. Needless to say, drama ensues.
As much as we love a gripping plot, we love a stunning interior even more – and in the case of Anatomy of a Scandaland more specifically, Sophie's house, viewers testify to both.
Featuring a semi-disheveled living room sofa next to an immaculate glass coffee table stacked with colorful coffee table books and voluminous flowers, the living room is just one of many rooms in Sophie's home that instantly grabs our attention. Another AOAS venue that lives rent-free in our minds? The study. Lined with floor-to-ceiling shelves cluttered with books, the dimly lit den, which is accented by a fireplace and a comfy but regal wingback chair, looks simply inviting — however dark the intrigue that fills it may be. Then there's the kitchen, with copper pans and a classic kettle to match, plus a mush of other cookware that gives the space a balanced appeal.
This is exactly what makes the show – and its designs – so compelling: it's clear that the set designers wanted to create a backdrop that was both lavish and accessible; chaotic and relatable. Of course, they also made a point of plunging each room into darkness to play up the overall theme of the show. But back to furniture and decoration. Creating spaces that look realistic in today's era, production designers have introduced silhouettes that can be purchased from a variety of retailers, and without the budget of a high profile politician.
Take the aforementioned wingback chair, for example. As expensive as the silhouette may have appeared within the walls of AOAS, actual buyers can snag a similar high-backed design from Article— their Mod Chair — for just $399. If you want to splurge on a Anatomy of a Scandal A lookalike piece, this 1950s Montgolfièr Empire Sac a Pearl Chandelier from 1stDibs ($31,166) is similar to the one that hangs in the couple's living room — and it would look stunning in any home.
Meanwhile, despite the company's obsession with phones, tablets and electric kettles, hardcover books and classic teapots feature prominently on the show and are also gaining traction in real life (especially as that the Coastal Grandmother trend takes off). With that in mind, if you're looking to hang your own coffee table-worthy texts, consider one of Gray Malin's many stunning photo books. As for a tea kettle, it's hard to beat the fancy of those by MacKenzie-Kids.
And while still on the topic of cooking, you might be wondering where you can buy some really shiny cookware. If you're not cemented to the idea of ​​copper and prefer a mixed metals approach, the Great Jones Precious Metals Cookware Set ($455) is worth the hike.
All that to say, if you like the interiors of Anatomy of a Scandal— or any of your other favorite Netflix shows — just know that the elements that go into making them might not be as out of reach as you think. You just need to know where to look.