Inside interior designer Alia El Tanani's Maximalist Monaco home
More is more. That said, the trick – according to Alia El Tanani, co-founder of Living In Interiors – is to mix together as many patterns and colors as long as they match in intensity. Surrounded by the alluring landscape of Monaco, with its vibrant atmosphere and in full view of its French Riviera, the acclaimed designer has decorated her family home with rich hues, a plethora of artwork and furnishings that display her keen sense of proportion and organize colorful scenes. which can only be described as a feast for the eyes.
"Our interiors are definitely maximalist, we never hesitate to break the rules, in fact we like to create our own based on proportion and quality," El Tanani told SceneHome. With artifacts representing many cultures, particularly Chinese, his family home has vibrant walls that bathe in southern French light and are briefly covered in paintings by Picasso, Salvador Dali, Karel Appel and Fernand Leger. "Houses should reflect the family that lives there and the lifestyle they aspire to," adds El Tanani.
"As a family we have a great passion for colors and patterns, everyone has their own thing but what we agree on is that our homes should be filled with color and life," continues Tanani. In the reception area, El Tanani chose a shade of purple that depended on how much light was pouring into the space, which almost made the color in the background disappear, allowing all the other highlights and hues to blossom. "The funny thing about colors is that the more you add, the better they blend, as long as they're at the same level of intensity. It's kind of like nature.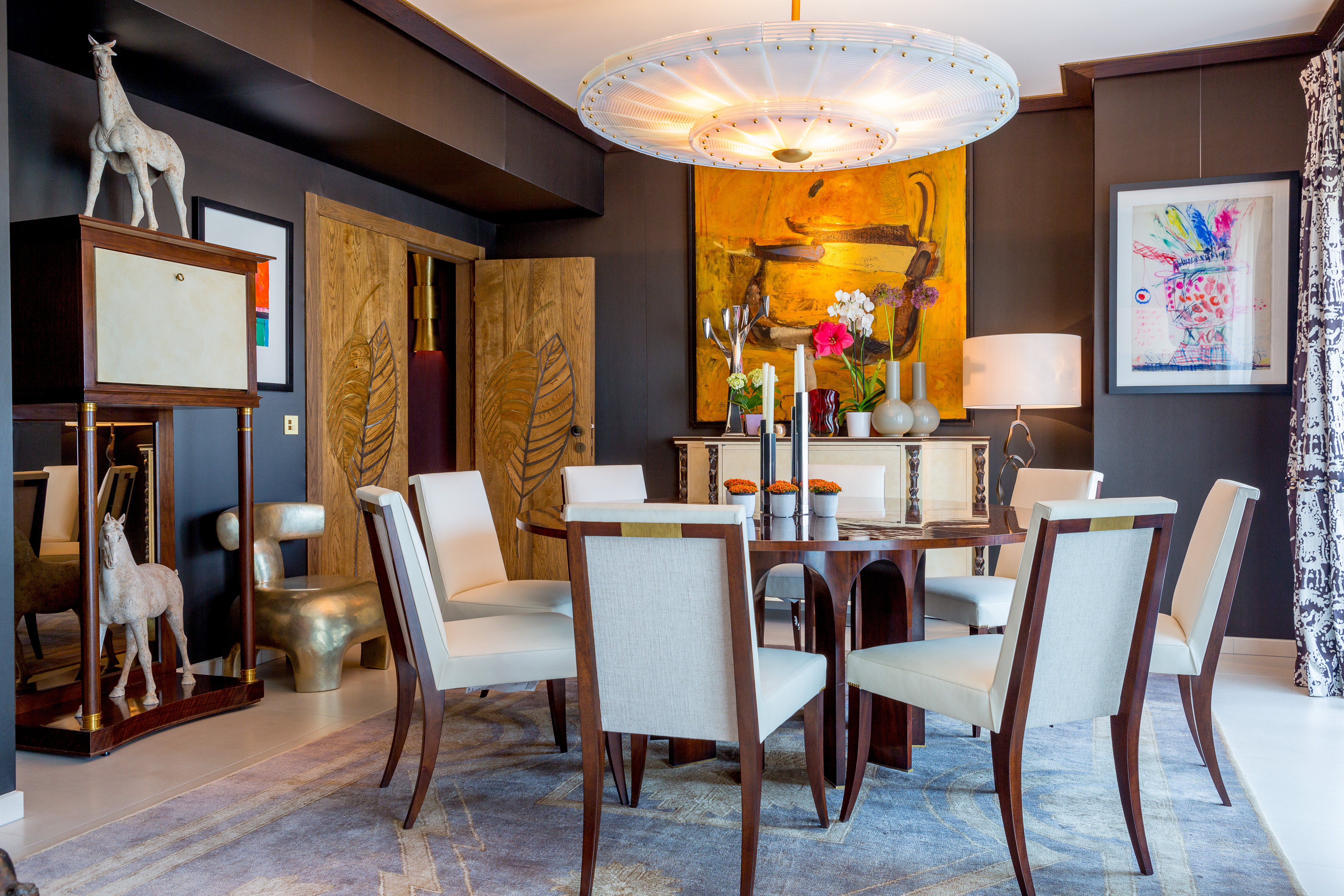 El Tanani's love of jewel tones is evident throughout the home, from emerald green on the chairs to sapphire blue on the sofa. Creating an explosion of visuals that are only accentuated by smooth, puffy textured red chairs paired with sunflowers. On the floor, the carpets bring a bit of contrast, being just a little less intense, while another in animal prints proves that the self-proclaimed maximalists are just that.
Furniture from designers like Baker and Ralph Lauren covers most surfaces with comfort and style. Which isn't too surprising since these are all brands represented in Living In Interiors showrooms, and used throughout the company's various projects. Their showrooms also combine rare finds with bespoke brands. "My husband is a great art collector in general and Chinese in particular, so we are always surrounded by beautiful pieces collected during various trips related to our activity", explains El Tanani. The artwork speaks of relevance to the present and the future through a medium that adds cultural depth throughout the home.
"Our children have grown up and are now part of our business. Tamara is the creative director and my son develops the business side of the business, so you can imagine we share everything, even the choice of interiors," says El Tanani. "What I look for when meeting clients is what they dream of, everyone has an image of what it is and my role is to capture it and recreate it in the world, for them to inhabit it ."
The location played a major role in the layout of the house. This is Monaco, after all. As the family spends most of their time in the living room, it makes sense to set it up with full view of the Monaco landscape on the balcony, while carefully selected furniture maintains the timeless essence of the interior. "It's the best place," says El Tanani. "The view says it all."