Interior Details: Interior Design Yvette Jay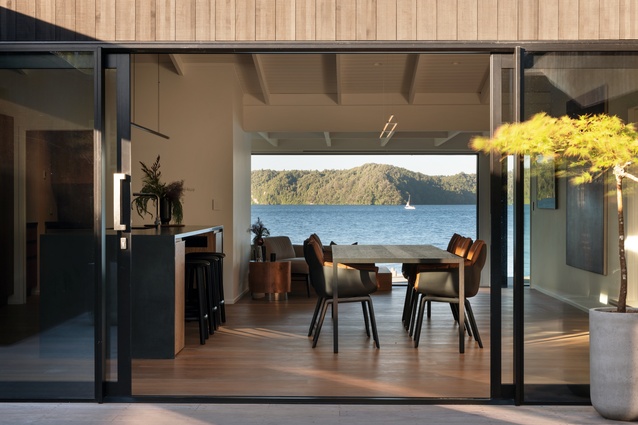 Based in Auckland's Westmere, Yvette Jay Interior Design opened in 2004. Since then sole practitioner Yvette Jay has worked alongside many renowned architects in Auckland and further afield, building a reputation as a creative, skilled and well-connected designer. with an eye for detail.
Tell us the story of the creation of Yvette Jay Interior Design?
Yvette Jay: Before getting into interior design, I studied architecture at the University of Auckland. I got a degree in architecture and worked for a few years in architectural firms, where I started to get more involved in project interiors and decided I really liked it. I then worked in a few interior design firms and in the showrooms of a few suppliers. I moved into this field because I felt like I wanted to have my own business, but I didn't have enough sales experience. So, after gaining this sales experience in the industry, I created my own firm in 2004.
You collaborate with architects on projects but do you work with others in your firm?
I'm the managing director and tea lady when it comes to my own practice, so I do everything and also really enjoy working alongside architects on their projects. There are a few architects I'm lucky enough to work with on a regular basis and it's just a delight. It's nice to be part of the team and work with them and their clients. Their clients have really made a massive commitment to design quality by hiring architects and then also hiring an interior designer, so I'm really committed to following the designs and achieving something beautiful in the end.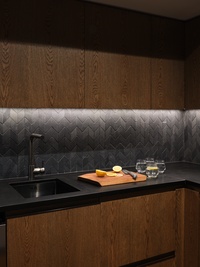 What prompted you to focus more on interior design?
I think interiors are much more immediate than architecture, simply because of the process that's involved. You will see the results of your work much faster. It's incredibly tactile. I've always loved fabric – I used to sew as a teenager. I loved going to this amazing fabric store on Queen Street called Centrepoint. It was like an Aladdin's cave and you go down into their basement and that's where they had all the best, most amazing fabrics. So it was to combine my love of textiles and my love of architecture and design. Interiors seems like a much more appropriate industry sector for me.
How to approach an interior?
I always want to create for my clients an interior that concerns them and something that is honest with the architecture in which it is located. I want to give them something that makes their heart sing when it's over. So I look at their loves, their passions, architecture and then my desire to have something really beautiful and honest.
When you approach a new project, do you ask a lot of your clients in terms of a brief or do you just have an idea and have a discussion?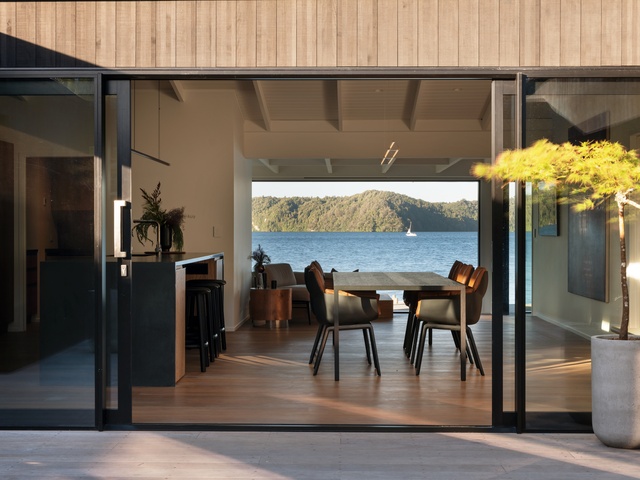 Every customer is different. Some clients will want me to talk to them and then walk away and find inspiration. Others will be more heavily involved and they will already have something that sets the design wheels in motion. It's a mix between the two and each time is different.
Do you prefer that they give you ideas on what they want or that they make a clean sweep?
I think the more involved the clients are, the better because then I'm going to give them something that relates to them on so many levels. Their desires and dreams are then woven into every surface and every layer as we work on the project. So the more they are involved, the better. I like this.
Is it sometimes a work of art for the space or a piece of furniture that highlights you?
Yes, something like that. On the beautiful Rotoiti Lake project, I had worked with this client before, so I understood what he liked. He was particularly indifferent with that one and just let me run, so I worked with the beautiful surroundings. You didn't have to look to anything else, it was just the amazing location.
Do you have a favorite project?
I'm especially in love with this Rotoiti Lake project right now. For many reasons it was quite a challenge and the blockages certainly made the finish much more difficult and complicated than it should have been.
Was it a renovation?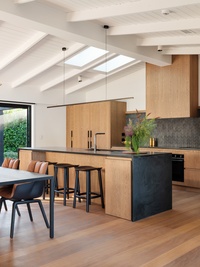 Yes, it was an existing 80's Lockwood style house and it was completely gutted. I was able to let off steam through the interior from start to finish. It was an amazing opportunity because the client trusted me to get started. The frustration with which we were locked up for four months while it was being finished. A lot of vendors were here in Auckland and they couldn't get down there so it was a lot harder than it should have been. Ours wasn't the only one like that, but now, when I look at the pictures, I've pretty much forgotten all that angst. It's delicious and that's all he wanted.
What were the main design goals for this project, in terms of color palette and material choice?
I was aiming for an understated chic lodge for this home. Sober, masculine, contemporary. There is a place for everything because the customer does not like clutter. Everything that exists is there for its beautiful form or texture. It is a really beautiful and considered house.
Can you tell me about the house in Herne Bay?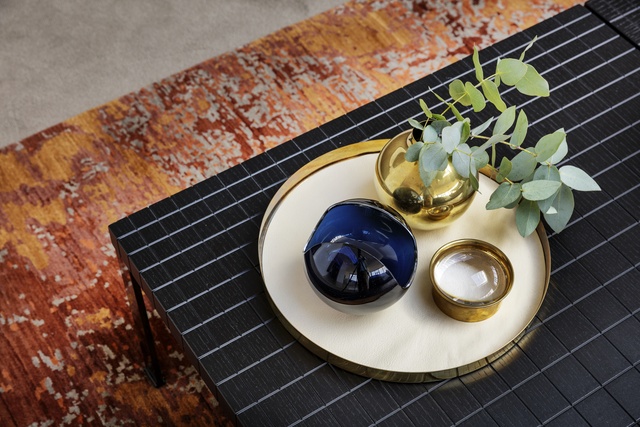 This is the client's other home. It was a really amazing project to work on because, again, he was pretty indifferent, but as you can see, it's a very clean, modern, masculine aesthetic. It has a little more color, which reflects its location in the city. With the Rotoiti project by the lake, I was sticking a lot to neutrals and masculine forest greens or playful lake blues across the different wings of the house.
And what about the Devonport Villa? Have you often worked with Scarlet Architects?
Yes. In the 90s I worked for Lindley Naismith for a few years and she is an amazing woman and a great mentor so I was lucky enough to form the start of a long term friendship with her. He's someone I really respect. She's incredibly hardworking and talented, so being able to come and work with her and other members of the Scarlet team on their projects is really nice because they're great people to be part of a team with.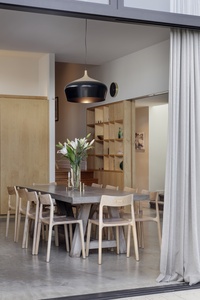 What are the strengths of this project?
This one is really lovely because working with the client here you can see she loves the color. So it was a wonderful opportunity to work with color and texture and really layer on the luxury factor. It's just a joy. I look at these photos and I vibrate. It's urban, chic and sophisticated. It's just lovely.
It's pretty daring, isn't it?
Exactly. Scarlet has made some lovely additions and alterations to this house, so you have the lovely traditional front and you have the very chic contemporary extension in the back and you can feel that transition as you walk around. It is thanks to the materials and the way colors are used in certain areas that the overall aesthetic cohesion is achieved. This is because there are certain elements that run through the whole process.
Can you tell us a bit about the Mt Eden Villa project?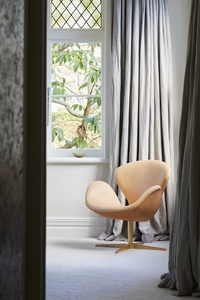 They were really lovely customers. The renovation probably took five or six years. The first thing I did with them was renovate the bathroom and bathroom. Then, a few years later, they picked me up and we did the rest – a new kitchen, a whole new interior color scheme, new flooring…we just finished the rest. The really delightful thing about it was that my client sold this house about a year ago and when they had the house open people kept saying how beautiful and consistent it was and they were really delighted because they could understand the decisions I made about six years ago. It was all relevant and I realized that with all the new stuff as well, so it didn't look tiny, but it all came together. That's the advantage of having someone like me.
The Remuera apartment is interesting with lots of textures and colors, including lots of leopard prints.
Yes. They are fabulous customers. It was my third project with her and we are now on our fourth. She is so much fun. She's really into interiors and I was freed from the chain with this one. She really wanted to make it quite special, so we went with very luxurious finishes, as you can see, around the fireplace and on the kitchen cabinets. She loves gold, she loves leopards – it's just a pure celebration of those beautiful colors and finishes.
It must have been fun.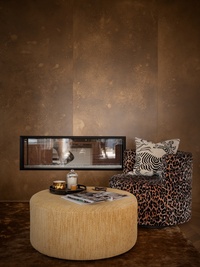 You can see she completely did this for herself and loves it. It just wasn't big enough, so she bought herself another apartment and we're starting over in the bigger one. One of the great things about the people I work with is that they're smart, successful, and know what they like. They want me to help them achieve something wonderful. It's great for me because every time is different and it all depends on my clients, their personality and their style. They don't try to impress anyone, the only people they want to make happy are themselves. It's wonderful because we're not looking over our shoulders trying to copy someone else, but just doing something really unique and special for them.
Follow Yvette Jay on Instagram @yvettejay_interiors