Interior renovations begin at Omni Homestead Resort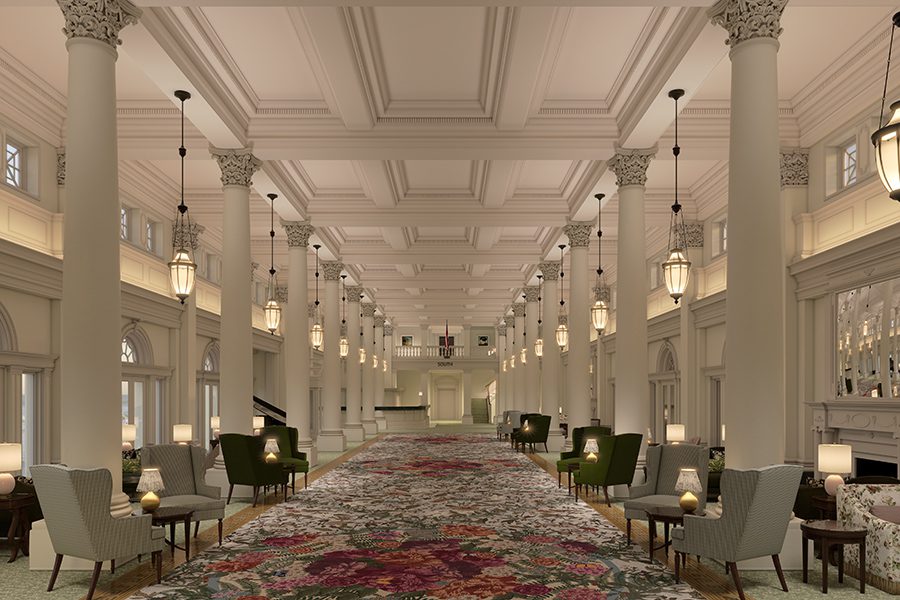 Following the facade renovations that began last fall, Omni Homestead Resort in Hot Springs, Virginia, began interior renovations. The $140 million upgrade, led by Omni's internal team in conjunction with WATG and its interior studio Wimberly Interiorswill be inspired by the natural splendor of the bucolic setting.
"We want guests to feel the warmth and heart of the hotel as it continues to welcome visitors," says Amy Humble, senior interior design manager at Omni Hotels & Resorts. "We believe it's important to take inspiration from the local environment and historic iconic models, as this is what gives the resort the warm, historic feel that guests love and appreciate about The Homestead."
The concept of the redesign is guided by the five terms: traditional, light, residential, sophisticated and iconic. Evident in the Great Hall, the core of the resort, which will continue to evoke timeless charm with custom carpeting that nods to the flora and fauna of the Allegheny Mountains accented by classic hardwood floors and elegant lighting.
The lobby bar will be expanded into the resort's Georgian room, which features a palette of bourbon and brandy tones, while the sunny bistro-style Martha's Market will be reconfigured to maximize efficiency and fluidity. The fast-paced, laid-back Pioneer Picnic will also feature a new dining concept equipped with a wrap-around porch.
Part of a 1923 addition, the on-site theater will be revamped, replacing theater seating with comfortable sofas, lounge chairs and side tables and transforming the screening booth into a stylish cocktail bar. Each of the Homestead's 28 meeting rooms will also be refreshed with a focus on architectural details and advanced features, from light fixtures to new acoustic ceilings and flooring.
Each wing of the rooms will be brightened up with a distinctive color palette that is found in the 483 renovated accommodations. "Traditional design is making a resurgence and will be celebrated with iconic patterns in guest rooms, fringed sofas and layers of patterned textured fabrics throughout the resort," adds Humble. "We have tried to make the rooms a respite so guests can enjoy a restful retreat."
More HD:
What I Learned Podcast: Tina Norden, Conran and Partners
The best new rooftop pools around the world
Nobu Hotel Barcelona marries Japanese and Spanish design