Q&A on Masters in Interior Design with Finalist Amy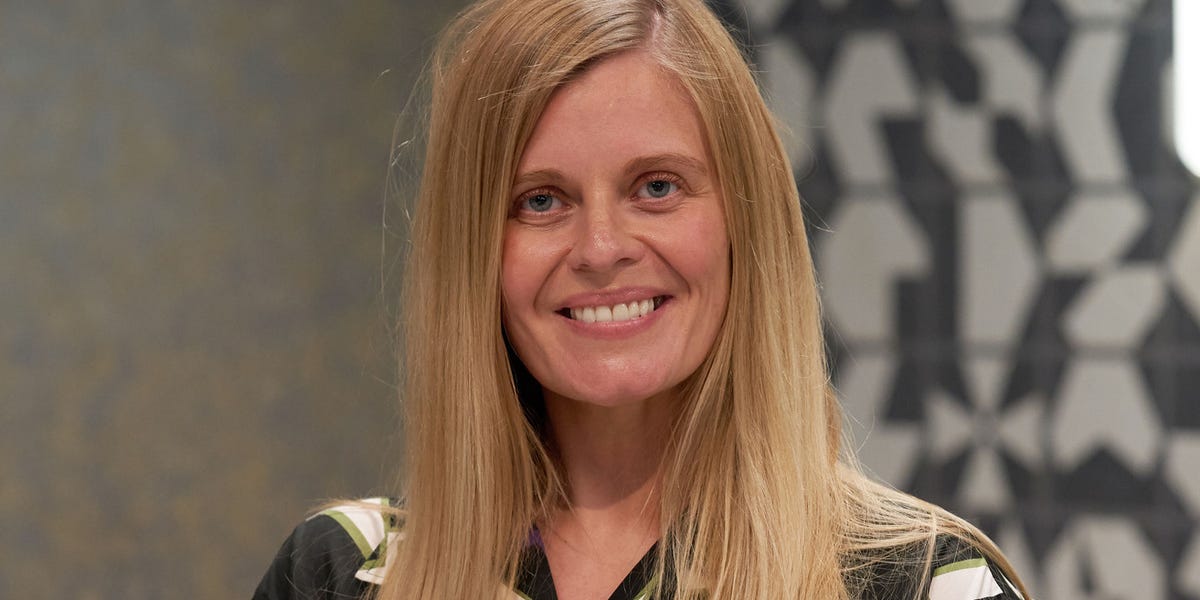 Everyone loved Amy, 39, a printmaker and illustrator from Ayrshire in Scotland, who now lives with her husband in south-west London. She came second to the winner Banjo in the third round of Masters in Interior Designbut as his poise and personal style made the leap from surface design to full-scale renovations, it was always going to be a short-term thing.
The judges – and viewers – were thrilled to see her perform with confidence. By the end of the series, Amy was doing things she never imagined she was capable of, like tearing down an entire bar in the finale.
With a mandate to transform a more than slightly dated basement 'Tiki bar', as well as an upstairs bar/cafe into a welcoming Soho destination, she never wavered, creating two bold projects that showcased her love of pattern, design and color in quite different, yet subtly related ways.
Beautiful house caught up with Amy after the finale and she told us about her return to earth – and shared the exciting news of the launch of her brand new home textiles business.
Where are you now?
Home in South West London, near Barnes.
Where did you see the final show?
At the bar in Soho with the others. I hadn't seen much of the production crew since filming wrapped, so it was nice to catch up with everyone.
What did you think when you first saw the bar? Has your heart collapsed?
On the top floor, my first thought was that there was nothing. It was almost like a moody dive bar. The big challenge was that it was already very popular with Londoners and had been there for years. I thought, how can I make my mark here?
Downstairs, of course, was a different story. I think a lot of it was installed by a handyman years ago. I didn't know what was behind anything. Someone would say "oh yeah, it's copper" and we'd look back and it wouldn't be at all.
The judges hinted that they might have liked to see a little more design connection between upstairs and downstairs. Did that bother you?
I went in the evening to see how it flowed before it started, to see the space, movement and flow throughout the bar. But they were two very distinct spaces. They weren't connected before and when I started thinking about the patterns, I didn't think of them together, but separate.
Downstairs was a crazy Tiki bar, upstairs was more of an open space. When I first saw it it was quite intimidating, but I wanted to make it a place where it would feel good to go for a coffee. Especially as a woman, I think. Sometimes places can be a little intimidating, especially if they are quite dark. You don't know who you'll meet or even if they'll serve you drinks. I mean, they sold coffee here, but I don't think anyone ever asked for it.
The crisp white and black really opened up this space. Fran also did some great murals, and the colors tied together a bit on the ground floor – it was subtle.
There was also a sense of creative freedom, treating them as separate spaces. We had done the lodges the week before and I worked really hard to make sure the indoor and outdoor space blended successfully.
That crazy wallpaper down there? Wasn't that a bit risky?
Well, with my previous experience in print and color, it was kind of nice to have gotten to this point myself where I felt like I could put it to good use. The owner liked the idea of ​​a 70s diet. I loved the graphic patterned orange wallpaper. Looking at it, you feel like you've eaten too many piña coladas.
If people are worried about using solid wallpaper at home, I would tell them to go for it. If that doesn't work, you've only wasted £100 on a roll of wallpaper. And I would say sometimes a solid wallpaper works better in a smaller room. At home I have the smallest bathroom in the world I think, but the patterned wallpaper adds so much impact.
What was your favorite scheme of all?
I have to say it was the waterfront retreat last week. I really felt like my confidence was growing at this point. It all came together so easily. I love that I took risks that I might not have taken earlier in the series. And also, I put a lot of myself into it. I thought about what I would have liked it to look and feel like if I had gone there with my own friends.
How do you feel now that the show is over?
I never thought I would go this far. When I got accepted on the show, I really thought it was a prank. When we started, I thought everyone was such great, amazing characters. But as more and more people came out, even though I was sad to see them go – because we were all really good friends – it gave me confidence in a funny way. I thought, well, I'm still here for a reason. I never thought I'd be brave enough to do demolition, but then you just throw caution to the wind. You know you're in the final and there's nowhere to go, so I went.
If potential designers are worried about applying to the show, what should they say to each other?
I'm just thinking of applying, applying. I didn't think for a minute that I would have the talent to apply, let alone the final 10 selected for the show. In terms of being a candidate, I think it's probably about putting some kind of structure in place with the rest of your life. You need to be aware of everything at home, at work, do your research on what you are going to do, and be prepared to be away.
And I would say don't live from week to week. Assume for your own sanity that you will stay there until the end. It's very grueling, especially physically, but it's such an amazing experience and they let you know and warn you first.
During last night's finale, you mentioned your difficult fertility journey. Many viewers would have found this very moving. Would you like to share your thoughts on this very moving topic?
I don't think the issue of fertility is discussed thoroughly and publicized enough. Many women, and men, for that matter, suffer in silence if they go through difficulties. I have a bad history of recurrent miscarriages and have also failed IVF. It's been four years now for me. I can get pregnant, but when I do, I miscarry. I have been found to have a problem with my blood, it is a bleeding disorder, which is a contributing factor to recurrent miscarriages. It requires daily injections of anticoagulant to maintain an ongoing pregnancy. There are also a few other issues, but that's the main one. I'm still in the process.
The only thing to be positive about is that it's not something I did wrong. It's not about being too stressed, or eating the wrong kind of food or anything like that, it's genetically caused.
I was getting very worn out by it all before I went on the show. I made time to see friends and had a hobby or two, but I needed something different in my life I think. It almost sounds like an indulgence, yes, but it gave me complete refreshment and a confidence I didn't know I had.
What future for you Amy?

I'm using my career in fashion to launch a range of textiles this week, including napkins and placemats. I do everything myself. But there are so many technical things, my husband, Freddy, helps me. He works in public relations for brands such as Facebook and Spotify, organizing events.
• Follow Amy on Instagram @amydavies_design.
To follow Beautiful house on Instagram.
This content is created and maintained by a third party, and uploaded to this page to help users provide their email addresses. You may be able to find more information about this and similar content on piano.io