Rebecca Moses Joins Cindy Allen for Interior Design's Inaugural ArtbyDesign Lecture at PENN1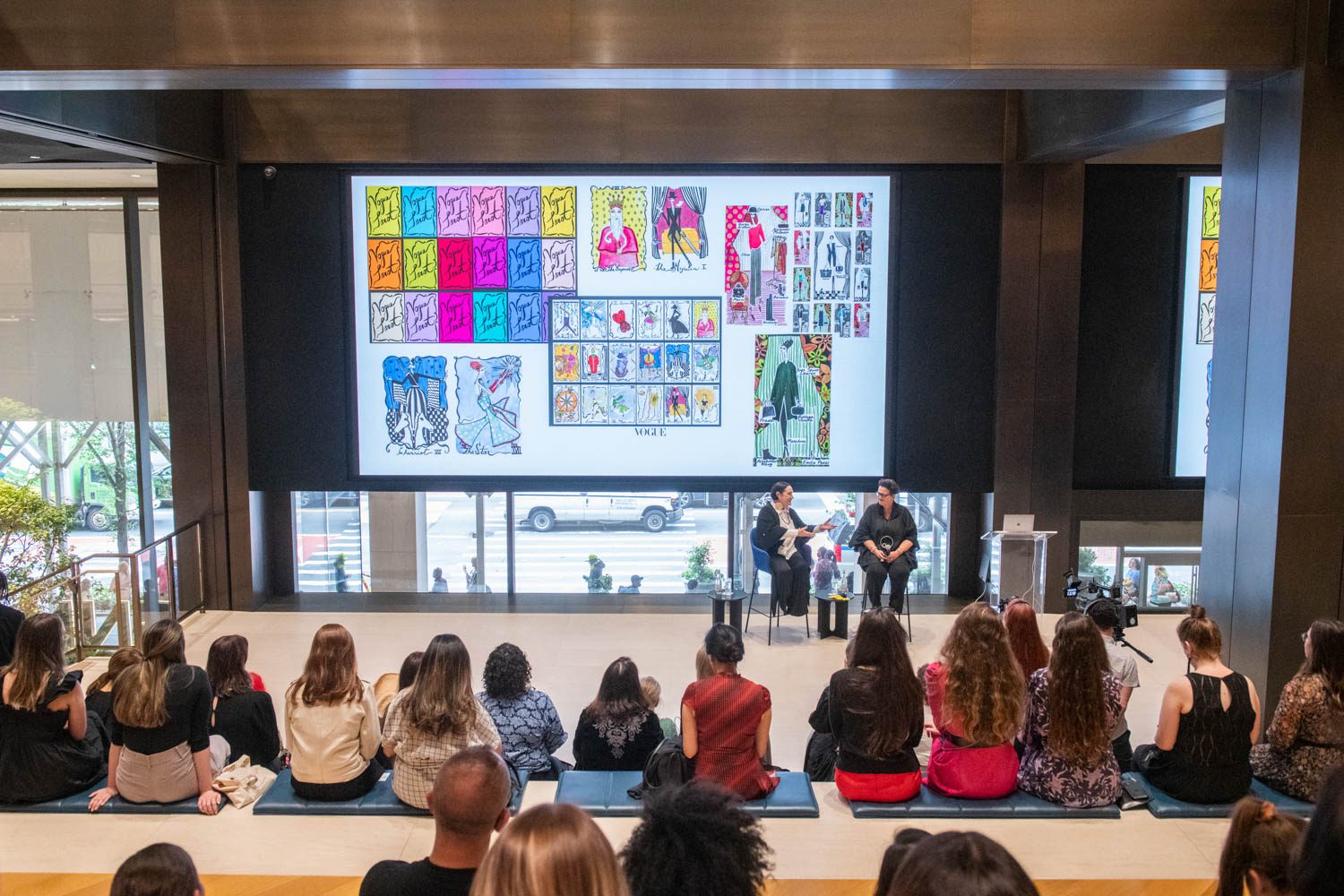 Marking the start of Interior designAt PENN1's new Manhattan offices, editor Cindy Allen hosted an ArtbyDesign talk with artist Rebecca Moses on June 23, the first of others to come, drawing a crowd to the building's lobby. The event, organized in partnership with Garden on the Wall, offered emerging designers the opportunity to connect with each other and learn how one of the industry's most beloved designers built and shaped her career over the years. "She changes people's lives," Allen said of Moses, setting the stage for the conversation to come.
Kicking off the discussion, Moses shared his insights into his early career, talking about his first love for design when he was 14 years old. "I always wanted to be a fashion designer," she said. Mission accomplished. After graduating from FIT, she then worked with Pierre Cardin.
As images of her early designs flashed across the overhead screens, Moses stressed the importance of taking risks, referencing her move from New York to Paris where she made a name for herself creating her own collection. "When you live in fear you get nothing, you have to face the fear and overcome it," she said. "What is the worst that can happen? You fail. But failure leads to discovery. This state of mind has advanced his career.
In Europe, Moses found success and love. "I fell in love with an Italian," she said, noting that it led to another new chapter, this time in Italy. As the conversation continued, Moses flipped her refined Italian accent on and off as if on cue, providing a theatrical account of her past as she talked about the evolution of fashion, design and fashion. technology.
Despite the swanky display cases that have displayed his pieces over the years, Moses retains a fascination with the behind-the-scenes work done in factories. "I like to understand how something is done, it gives food for more creative energy. That's what Italy taught me," she said, noting that there are "Countless opportunities for growth, even in the darkest of times. After the death of her husband, Giacomo Festa Bianchet, Moses shifted her focus from fashion to art, creating cheeky illustrations for esteemed magazines. Fast forward to 'at the start of the Covid pandemic. As the world shut down, she helped people build community – and feel seen – by connecting with them on social media and offering a portrait in exchange for a glimpse into their lives at home.The resulting project, "The Stay Home Sisters," pays tribute to the lives and work of countless women who worked as nurses at the height of the pandemic.
As for the young designers in the room, Moses offered a bit of advice: "You all have a lot of mystery in you," she said. In other words, use it!