Richard 'Stands By' Curtains Decision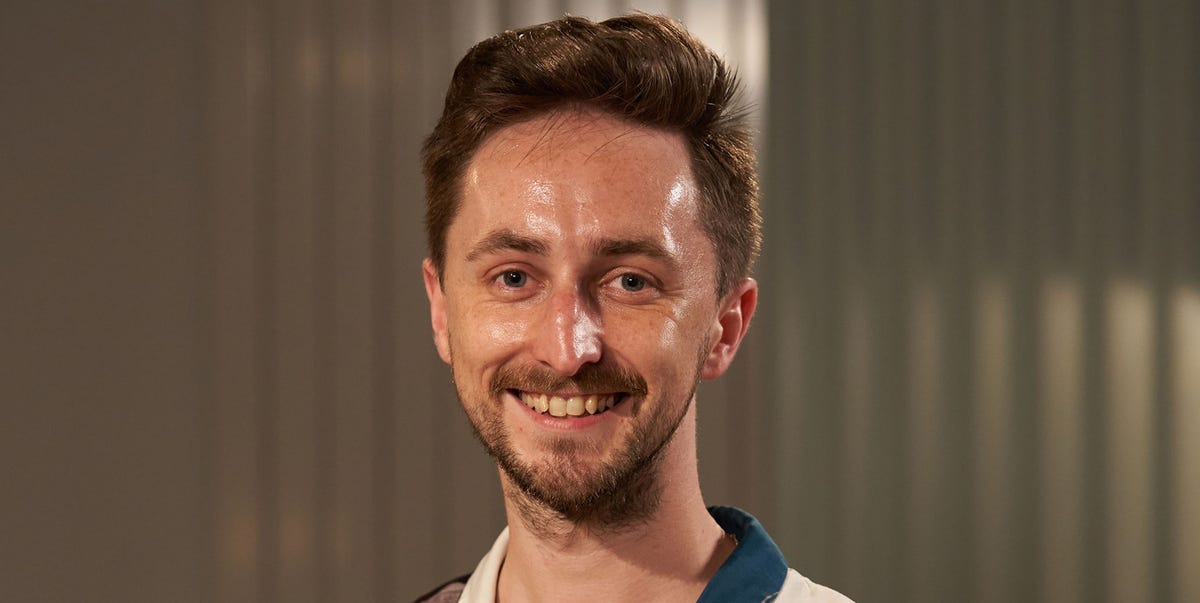 Jaws traveled the country last week and the internet crashed when colour-loving mural artist Richard O'Gorman was the first to leave the BBC. Masters in Interior Design.
In case you're new to the show, 10 aspiring designers are vying to win a contract of a lifetime – to revamp the Watergate Bay Hotel in Cornwall. Now in its third series, the first task saw Chief Justice and design guru Michelle Ogundehin ask contestants to design a luxury, tenant-friendly apartment on the outskirts of Manchester city centre.
Put in pairs, they had just two days to turn bland apartments into something fabulous. The results were mixed when budding designers interpreted the brief (there was a lot of debate over whether a wallpaper was navy or teal), but it's the social media star and stylist interior designer Richard who had to say goodbye, Michelle taking an instant dislike to her handmade curtains that didn't reach the floor.
Addressed exclusively to Beautiful home UK, Richard is as warm and friendly as you'd hope – and his Zoom background is as fun and colorful as you'd expect. Read on to find out what Richard thinks about leaving the show first, his experience and who he wants to win…
It's such a shame that you left so early, but what an experience! Was it hard to keep it to yourself all this time?
I had such a hard time keeping the secret! Especially online because I'm so open with my Instagram followers — I share my failures and successes with them, so it was hard not to be open about it. We shot in June, so it's been a long time. Everyone has been so supportive and kind and I'm so grateful. I have no regrets – even on the way back from Brighton I felt proud of what I achieved.
Online viewers weren't happy that you came out in the first week…
I've received so many messages of support – I always try to pass them all! Some people said they were going to boycott the show, but I asked them not to because I love the other creators and want everyone to see their hard work too.
How do you feel about being the first to go now?
As soon as I found out I was in the last bands, I felt like I was going to be sent home. I remember feeling so numb and disappointed that I almost couldn't walk around the room. I was nervous to see it again, but Abi (Davies) and I hosted a viewing party with our friends and family in Birmingham. Being around them really helped – as did a few drinks, of course! I am very sad to have wasted time with others.
What were you most nervous about before filming began?
Time constraints – we only have two days to completely transform these rooms and it took me five weeks just to do my dining room! However, I still managed to tick everything off my to-do list and achieved everything I wanted.
This content is imported from Instagram. You may be able to find the same content in another format, or you may be able to find more information, on their website.
Did you feel extra pressure because you were already famous on Instagram?
Absoutely. I was worried about my career. I've spent the past two years working so hard and building my own brand that I wondered what it would mean to me if I got home first.
How did you find being filmed?
I think I got used to having the cameras in my face right before I left! I was so nervous to say the wrong thing. When we were in the challenge, the producers asked if there was any tension between me and my partner Molly or if we were fighting. I must say that I sincerely love him and that there was no argument.
The days seem so long…
They are Phone long days. You arrive at 8 a.m. and start filming around 9 a.m. to finish at 7 p.m. We had a one hour lunch break but it was still exhausting. I was really cold the first day and then I thought 'Agh, there's only one day left!' so had to break it on the second day. I absolutely loved styling my room, it's one of my favorite things to do. And then we all went to the hotel bar and had a drink together, which was so nice.
Do you still speak with your fellow candidates?
Everyone is always in touch – we even have the obligatory WhatsApp group. Pete (Anderson) was on the radio this morning and we all tuned in to listen to him. We call him Uncle Pete and we really are like family now. I'm hoping to head over to Pete's on Wednesday night to watch the next episode with some of the others.
We have to discuss the curtains…
I stand by my decision! I've always wanted them to take off – but I'll let you in on a little secret. They were only supposed to be 10cm off the ground, but I miscalculated and they ended up 20cm off the ground, oops. Sadly, Michelle didn't see my vision, but honestly, none of my curtains are touching the floor at home, I'm doing that on purpose.
Did you feel like you met the brief?
I did and I still do. At first I felt so hectic, but then I just thought "you just have to go!" Maybe I was too avant-garde. I like to push into the future but I think maybe Michelle was looking for the present.
What was your inspiration?
I lived in Manchester for four years and it really can be as rainy and dark as the stereotype would suggest, so I decided to go with a warm base color that really envelops anyone who walks in. Then I added different hues for an interesting color palette. My inspiration was really the future, very LA, quite minimal. As a tenant you need flexibility so I tried to leave some breathing room for that. I also liked the green surprise behind the curtain (where the shelves were), it was something a little different.
Where do you tend to find most of your inspiration?
I try not to spend too much on Instagram because I think it can really affect your own outlook and judgment – you can be too influenced by what other people are doing or what's trending the month. I watch the fashion industry a lot because colors always seem to inspire me.
What, for you, makes a perfect space? What is your idea of ​​a dream bedroom?
Light, light and more light! More than you think you need. One of my favorite things about my home is the amount of natural light there is and the impact it can have on a room – the way the light and shadows dance around is just beautiful. And add plants! They soften a room.
If you could go back in time and change one thing, would you? And what would it be and why?
No – although maybe the curtains…
What is your best memory of your time on the show?
At the end of the week we all headed to Brighton beach and had chips on the sea front. It was such a great bonding experience and created memories I will never forget.
What do you think is the biggest lesson you learned?
Time Management – I've never really been a list person before, but I've realized now how handy they are, I feel more organized already!
Do you have any advice for those considering applying for the next season?
I would say go for it – go big. Trust your instincts and trust your aesthetic.
What's next for you?
Just got back from Leeds where I painted two murals for clients and now I'm off to London for more murals. I love it. I also have a t-shirt collaboration coming out, as well as collaborations with a cushion brand and a wallpaper company. I am busy and grateful.
Who is your winner?
Oh, I love them all…it's almost impossible to say, but I'm going with my queen Abi. We knew each other before the show and I'm so grateful to have her in my life. She deserves the world.
• Watch the next episode of Masters in Interior Design Wednesdays at 9 p.m. on BBC One. Follow Richard on Instagram.
To follow Beautiful house on Instagram.
---
This content is created and maintained by a third party, and uploaded to this page to help users provide their email addresses. You may be able to find more information about this and similar content on piano.io