Why 1970s interior design is making a comeback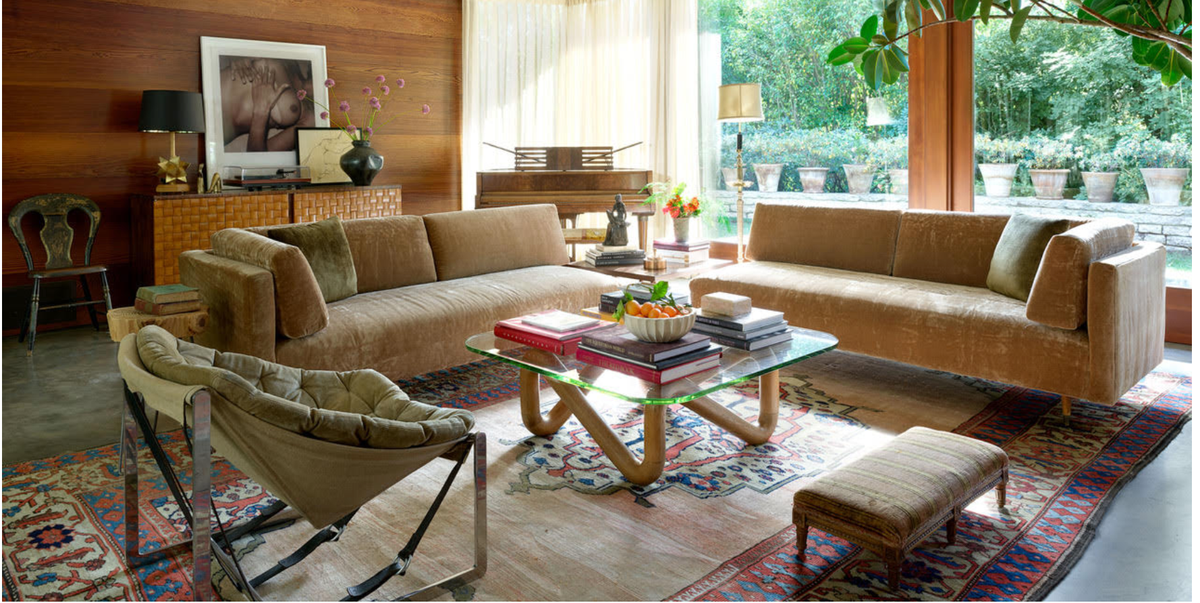 Courtesy of Pierce and Ward
The great interior designer of the 1970s, David Hicks, once said, "The best rooms have something to say about the people who live there." Though it's a wonderful feeling, think back to grandma's house with plastic-covered furniture, crushed synthetic velvet, shades of orange and, save us all, shag carpets. Unfortunately for Grandma, they were a product of their time when plastics were still new enough to be fashionable and shaggy rugs matched men's flowing hair.
The 70s was a time of excess, both in spirit and in the case of interior design, a muddy brown orange hue that will hopefully hold its own era. That said, the old adage that everything comes back is true. The 1970s design trend is yet to overwhelm modern interiors, but the new season is a harbinger, a sophisticated extraction of the good times of the era. New trends are cherry picking elements such as low seating, playful florals, and even wood paneling. These are all enjoying a sophisticated resurgence, thanks to the help of brands such as Bode and Green River Project. The nostalgia for warm, earthy tones and materials like rattan is comforting this time around, if not a bit liberated from the maximalist color.
From faded chinoiserie to Palm Beach glamour, this curated product selection shows that the 1970s is a decade worth revisiting, just approached with a cleaner, more modern conviction in design.
Advertising – Continue Reading Below
1
Leta Austin Foster's Honeysuckle Trellis with Waterhouse Wall Hangings
2
Binderton Sofa – Budapest
The 1970s were all about textiles like embroidery, bargello and macrame. And Object's generously proportioned sofa uses fabric inspired by the Pierre Frey flame stitch to create a design filled with nostalgia. It is definitely the centerpiece of any living room.
3
Pierce and Ward's earthy homage to the 1970s
Louisa and Emily of Pierce and Ward perfectly balance the laid-back California style of the 1970s in a modern interior. Sophisticated wood paneling, earthy tones, and clean-lined velvet sofas help the space feel grounded but still light.
Gabriella Hearst's Spring-Summer 22 collection offers flared legs, crochet details and very bohemian colorful patterns this season.
5
Carnation Safavid – Date – Sand Linen
The 1970s inspired a love of Indian-inspired cashmeres and textiles. Soane's Safavid Carnation fabric in earthy brown tones is a sophisticated take on the classic 1970s inspiration.
6
Lee Radziwill's 1976 house
Style icon Lee Radziwill has created an interior that would feel as sophisticated today as it did in the 1970s. Filled with rattan furniture, plants, exotic Oriental-inspired bookcases, a Boldly patterned rugs and a beautiful shade of earthy pink, this is the height of 70s interior design.
In the spirit of David Hicks, La Chance's boldly patterned rug is brought to you by The Invisible Collection and is hand tufted.
This picture lamp by Amanda Lindroth adds just the right touch of 70s rattan culture with added caning for texture.
Thibaut's new Laura print featured in the Willow Tree collection at this year's High Point Market is a reproduction of a 1920s document. With a slightly larger scale and a warm color palette, it's a wink resolutely contemporary to the 70s.
ten
Lee Industries New Rose Fabric on Swivel Chair
Lee Industries introduced a new fabric called Naomi Rose for its fall launch inspired by a flocked wallpaper from the late 60s and early 70s. Seen here on the 3471-01SW swivel chair, it's the chicest update to those crushed gold velvet chairs that were the "it" piece of furniture in the 70s.
This content is created and maintained by a third party, and uploaded to this page to help users provide their email addresses. You may be able to find more information about this and similar content on piano.io
Advertising – Continue Reading Below